Tillamook ice cream is a brand of premium ice cream created in the Pacific Northwest. It's manufactured by the Tillamook County Creamery Association, a farmer-owned cooperative located in Tillamook, Oregon. What's fun about this dairy co-op is that you can visit it and buy fresh ice cream, cheese, yogurt, and other dairy products that are made onsite. Most of their products are naturally gluten-free, but the company is not considered a gluten-free brand.
If you have an opportunity to visit the PNW and love dairy, then you should put visiting Tillamook on your bucket list. I've been there a couple of times, and it never disappoints. They basically have a trough of free cheese cubes you can eat to your heart's content. You can also try fresh ice cream at their Tillamook Creamery Market. (Is Tillamook ice cream gluten-free? Most of it! More on that below.)
Even if you can't make it all the way out to the Tillamook Creamery, you can still buy those same dairy products in stores. They are high-quality and super creamy.
Gluten-Free Grubbin' is supported by its readers. We may earn an affiliate commission at no extra cost to you if you buy through our links. We promise we'll only share products that provide value to the gluten-free community.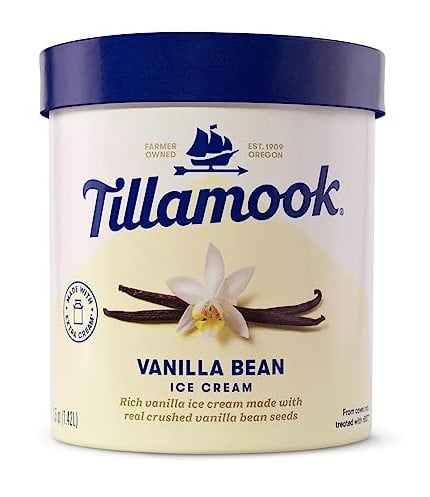 Tillamook Gluten-Free Ice Cream Flavors List
The following Tillamook ice cream flavors are free from gluten add-ins:
Old-Fashioned Vanilla Ice Cream
Oregon Strawberry Ice Cream
Tillamook Mudslide Ice Cream
Banana Split Ice Cream
Caramel Butter Pecan Ice Cream
Chocolate Chip Ice Cream
Chocolate Ice Cream
Chocolate Peanut Butter Ice Cream
Coffee Almond Fudge Ice Cream
French Vanilla Ice Cream
Mint Chocolate Chip Ice Cream
Mountain Huckleberry Ice Cream
Neapolitan Ice Cream
Oregon Dark Cherry Ice Cream
Oregon Hazelnut & Salted Caramel Ice Cream
Peaches and Cream Ice Cream
Rocky Road Ice Cream
Udderly Chocolate Ice Cream
Vanilla Bean Ice Cream
White Chocolate Raspberry Ice Cream
Double Nutty Peanut Butter Ice Cream
Stumptown Cold Brew Coffee Ice Cream
---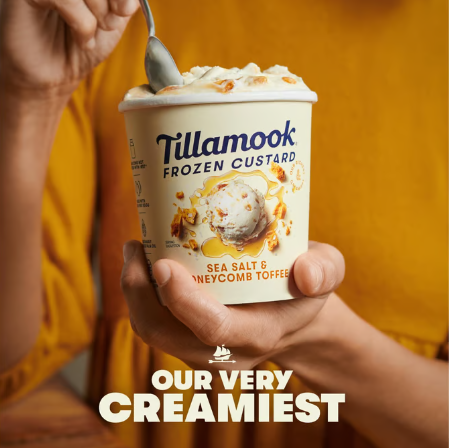 Tillamook Gluten-Free Frozen Custard List
The following Tillamook frozen custard flavors are free from gluten add-ins:
Sea Salt & Honeycomb Toffee Frozen Custard
Dark Chocolate & Red Raspberry Frozen Custard
Maple & Candied Pecan Frozen Custard
Salted Caramel Frozen Custard
---
Related: Gluten-Free Ice Cream Brands: A Complete List
---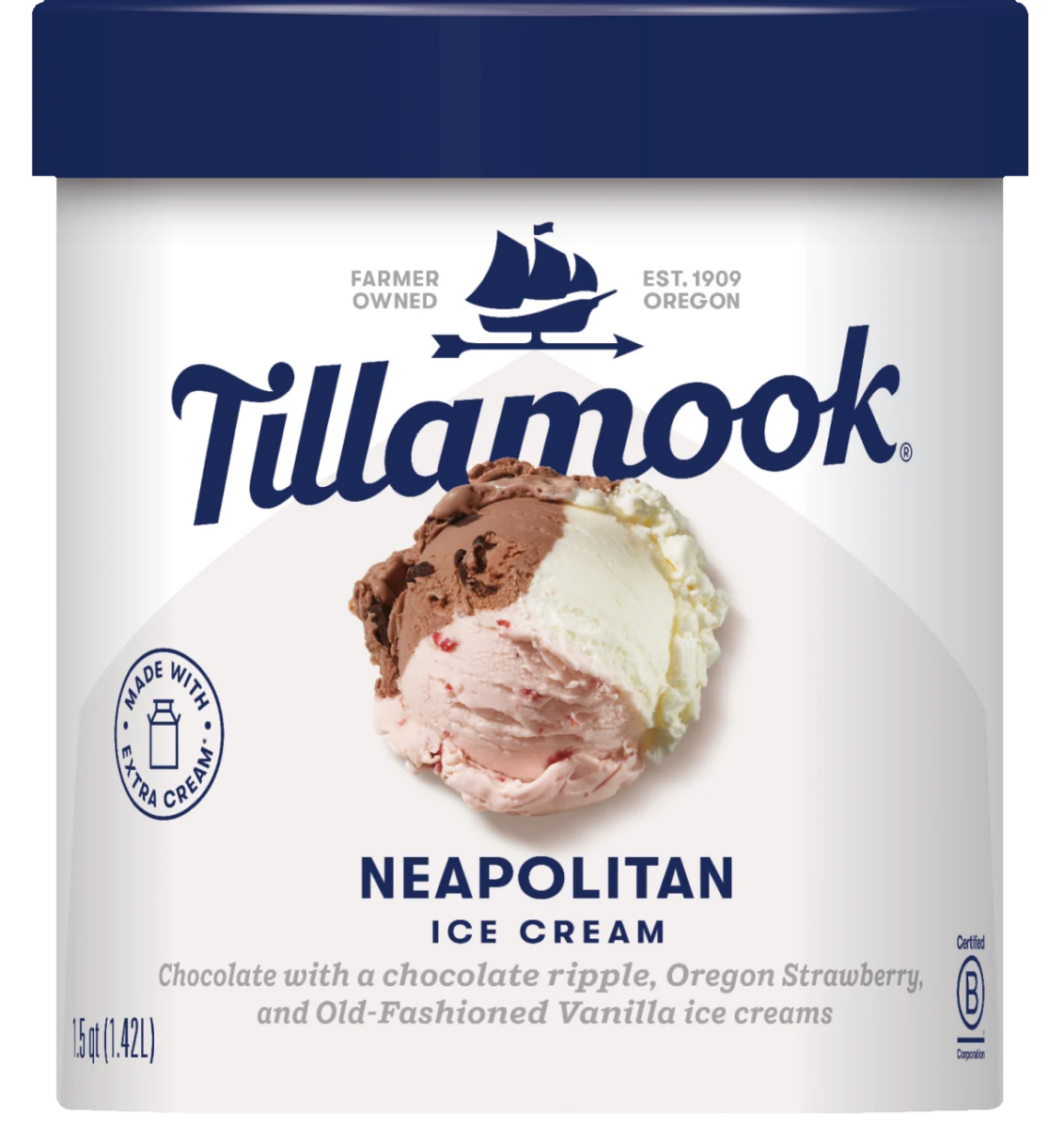 Is Tillamook Ice Cream Free From Gluten Cross-Contact?
Some of the Tillamook ice cream flavors contain add-ins that are not gluten-free. We reached out to the company to find out more about how they prevent allergen and gluten cross-contact to keep their facilities safe. Here's their reply:
Thank you for reaching out! I am so sorry for the very delayed response.

You may have noticed the disclaimer on our ice cream packaging which states that the ice cream is made with equipment that also processes major allergens like tree nuts, gluten, eggs, etc. Basically all of our ice cream flavors are made with equipment that processes major allergens like this, including gluten.
In case it's helpful to know, we have thorough GMPs (Good Manufacturing Practices) in place that are designed to prevent cross-contamination. For instance, ice creams containing major allergens are made at the end of the day, and the equipment is always thoroughly cleaned between production runs (which takes 3-4 hours). This includes a swab test on the equipment itself that is done after cleaning, to ensure that there are no remnants from the previous production run present.

However, since all flavors are made with the same equipment, we have to include a disclaimer about that on the packaging.

I hope that this helps? Let me know if you have any other questions though.

Hope you are safe and well,

The Tillamook Team
For what it's worth, I'm celiac, and I've had Tillamook ice cream dozens of times over the last 10+ years, and I've never had a gluten reaction from their products.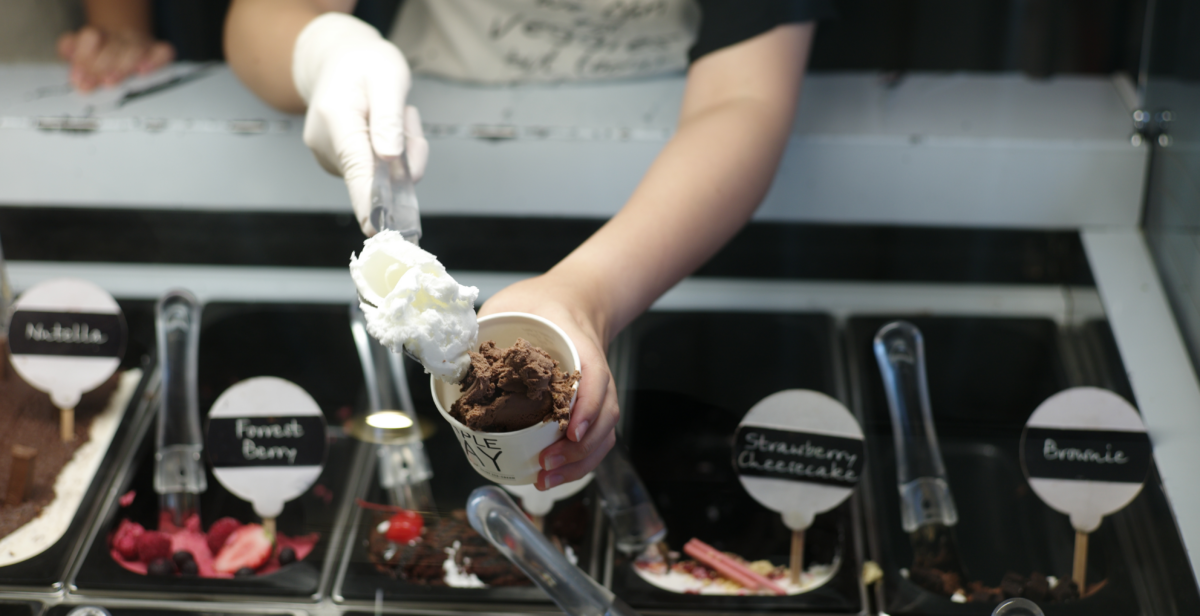 4 Steps To Avoid Gluten at Tillamook's Creamery
There is a big difference between eating prepackaged ice cream and going to an ice cream shop. The likelihood that you'll be glutened at an ice cream shop is high if you're not careful. But I promise that you can totally avoid gluten cross-contact by following these four steps.
1. Do Your Research
Sure, you want to live carefree and YOLO and carpe diem and all that jazz, but you just can't do that as a celiac or person with gluten sensitivity. Before you head over to Tillamook's Creamery, make sure to do your research about which ice cream options are free from gluten.
If you are YOLO'ing it and haven't done your research before you get to the creamery, just ask the store associates for a list of ingredients in the ice cream flavors you're considering. Or, you can just scroll up on this article and check out our list of Tillamook gluten-free ice cream flavors to help you out.
Basically, all I'm trying to stress is that you should never assume that an ice cream flavor is gluten-free just because it should be gluten-free. Some of those food manufacturers come up with wild ideas and put all kinds of unnecessary products in our foods. So just check things out and be prepared.
2. Communicate Your Dietary Restrictions
Before you order your ice cream, tell the Tillamook associate what your dietary restrictions are. For some people, this can be so uncomfortable, but it doesn't have to be. A lot of people simply say they have a "gluten allergy" to spare everyone from the long spiel about their exact restrictions. Everyone knows what "allergy" means, and no one wants to mess with anaphylactic shock. So if it's easier to say "gluten allergy" to get the worker's attention, I give you permission!
3. Ask Them To Use a Fresh Scooper
As a celiac out in the wild, I slightly cringe when I have to ask a busy worker to stop the production flow and help me out in a special way. I don't want to be a burden or slow down the line behind me, but this step is the most important.
The scooper spoon the worker is using has dipped into the cookies and cream or brownie fudge ice cream, and it's not safe for you. You know how sometimes the workers put the scoop into a water container between uses? Please don't justify that they've cleaned it off by doing that. You're going to get sick if you do that — I promise.
After you've told them you can't have gluten, ask them to get a clean scooper. I've never heard of a worker say no. And if they do? Walk away! You may be sad, but at least you'll stay healthy. And you can still buy the prepackaged ice creams, so the day won't be completely ruined.
4. Ask Them To Open a New Container
Unfortunately, asking for a fresh scoop isn't enough. Remember, the workers have dipped into all those different ice creams, distributing gluten all throughout the containers. That's why you need to ask them to open a brand-new container.
Ice cream shops have big containers of their products on hand so that if they run out of one, they can quickly replace it. All you're doing is cracking into the new container before anyone else has had a chance to contaminate it. Most workers will be happy to accommodate your needs, so don't be afraid to ask.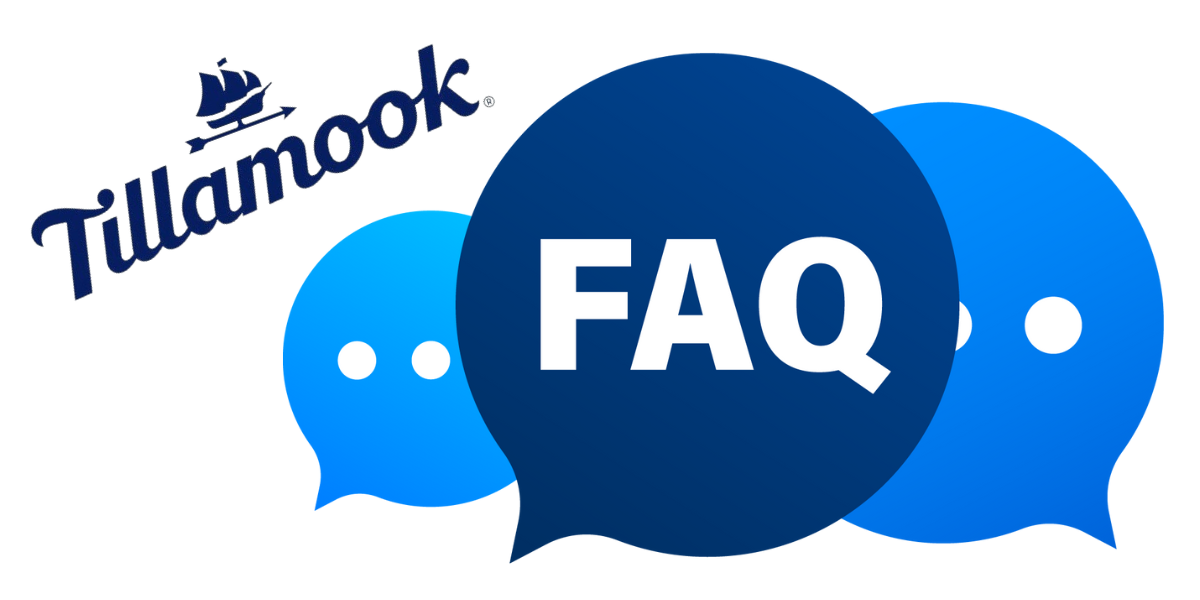 Tillamook Ice Cream FAQ
Is Tillamook ice cream safe for celiacs?
Yes, people with celiac disease can safely enjoy Tillamook ice cream as long as they choose ice cream flavors that don't have gluten-containing add-ons. Celiacs should avoid anything with added cookies, cakes, brownies, cones and crusts, just to name some. But, ultimately, they should check the ingredient list to double check because gluten is hidden in products all the time.
Does Tillamook make gluten-free, dairy-free ice cream?
Tillamook does not sell dairy-free ice creams (or any dairy-free products for that matter). However, you can get a fruit sorbet at the Tillamook Creamery.
Does Tillamook make sugar-free ice cream?
Tillamook does not sell sugar-free or "no sugar added" ice cream flavors in grocery stores. However, the Tillamook Creamery does have a "no sugar added" ice cream flavor.
Is Tillamook ice cream vegetarian?
All Tillamook ice cream flavors are vegetarian, except the Rocky Road, which contains pork gelatin.
Eat Tillamook Ice Cream With Confidence
Living with celiac disease or gluten sensitivity shouldn't hinder your ability to enjoy the finer things in life. Tillamook has gluten-free ice cream options you can enjoy! Just make sure to check out the ingredient label and take the right precautions to stay safe.
Oh, and if you love eating ice cream and cookies, check out our full list of the best gluten-free cookie brands.
Go get your grub on!