Bagels are one of those beloved foods that gluten-free eaters often mourn the loss of. In the past, gluten-free bagels were the culinary equivalent of a hockey puck. Slathering that bread discus in cream cheese was a necessity so that it would slide down your gullet before it could absorb all of the moisture from your throat. Today, gluten-free bagel brands have stepped up their game by producing soft, chewy bagels that actually taste good.
Want to fill your cart with more carbs? Here are 13 Trusted Gluten-Free Bread Brands to choose from.
9 Gluten-Free Bagels To Try
Have you ever wondered who makes gluten-free bagels? Below you'll find a list of nine popular gluten-free bagel brands available across the world, though many of these products may be available only within the United States. Where possible, we've linked to the company store locator so you can easily see where you can get gluten-free bagels near you.
Gluten-Free Grubbin' is supported by its readers. We may earn an affiliate commission at no extra cost to you if you buy through our links. We promise we'll only share products that provide value to the gluten-free community.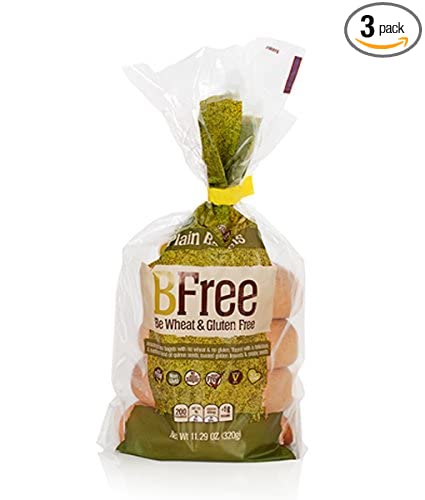 BFree
Multiseed Bagel
Plain Bagel
Cross-Contact: The BFree bagel packaging contains the Gluten-Free Certification Organization label, but we could not find an allergen safety policy on BFree's website. We emailed the company and asked for more information, and we'll share their response when we hear back.
---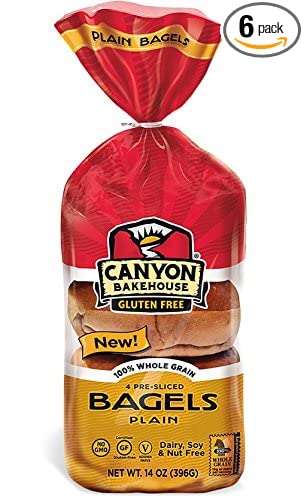 Canyon Bakehouse
Plain Bagels
Everything Bagels
Blueberry Bagels
Deli White Bagels
Cinnamon Raisin Bagels
Cross-Contact: Canyon Bakehouse puts its products through thorough testing in its dedicated gluten-free facility to ensure that products come in below 5 parts per million. Before ingredients enter the facility, Canyon Bakehouse tests them to prevent gluten cross-contact. If those raw products are found to have gluten in them, they are not allowed to enter the factory. Canyon Bakehouse foods also carry the GFCO certification. (Source: Canyon Bakehouse)
---
Franz
Cross-Contact: Franz gluten-free products and ingredients are regularly tested in their dedicated gluten-free facility. Their products are also certified by the GFCO. (Source: Franz)
---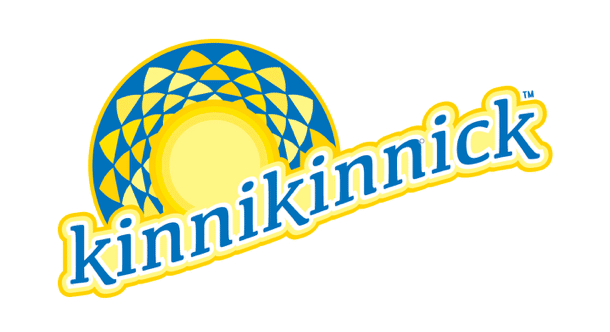 Kinnikinnick
Blueberry Bagels
Cinnamon Raisin Bagels
Plain Bagels
Cross-Contact: Kinnikinnick is one of the gluten-free bagel brands that is so dedicated to preventing cross-contact with gluten that they don't allow their staff to bring in any kind of gluten-containing items. Additionally, Kinnikinnick keeps all ingredients out of their dedicated gluten-free facility until they have been tested and found to have less than 5 parts per million of gluten. All of these products are GFCO certified. (Source: Kinnikinnick)
---
Little Northern Bakehouse
Plain Bagels
Everything Bagels
Cinnamon Raisin Bagels
Blueberry Bagels
Cross-Contact: Little Northern Bakehouse not only tests their products themselves for gluten, but they also have an outside lab test them. Their dedicated gluten-free facility and their products have been certified by the Gluten-Free Certification Organization. (Source: Little Northern Bakehouse)
---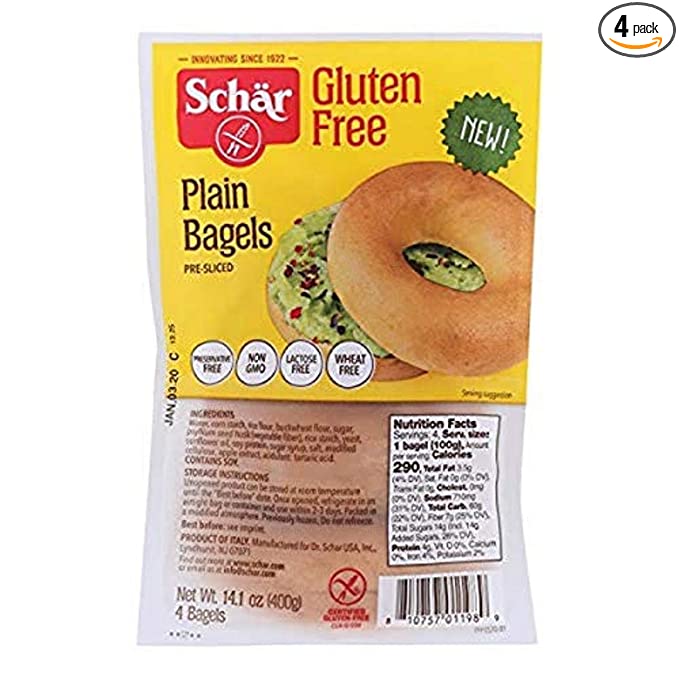 Schar
Cinnamon Raisin Bagels
Plain Bagels
Cross-Contact: Schar's website doesn't have any information regarding how they avoid gluten cross-contact, so we reached out. In an email from the company, they said that their products are made in dedicated gluten-free facilities. They also test their products using the ELISA R5 test and aim to have all of their products under 10 parts per million, with most of them coming in under 5 ppm. (Source: Email from Schar)
---

Trader Joe's
Gluten Free Bagels
Gluten Free Everything Bagels
By the way, have you ever tried Trader Joe's Everything but the Bagle Sesame Seasoning? It's INCREDIBLE!
Cross-Contact: Trader Joe's tests their gluten-free products to ensure that they contain less than 20 parts per million of gluten. In an effort to obtain more information regarding how they prevent gluten cross-contact, we reached out to the company. Unfortunately, their reply only restated the information about their testing and didn't include any information about avoiding cross-contact with gluten. (Source: Trader Joe's)
Where To Buy: We've found these products at Trader Joes, of course! Use Trader Joe's store locator to find gluten-free bagels near you.
---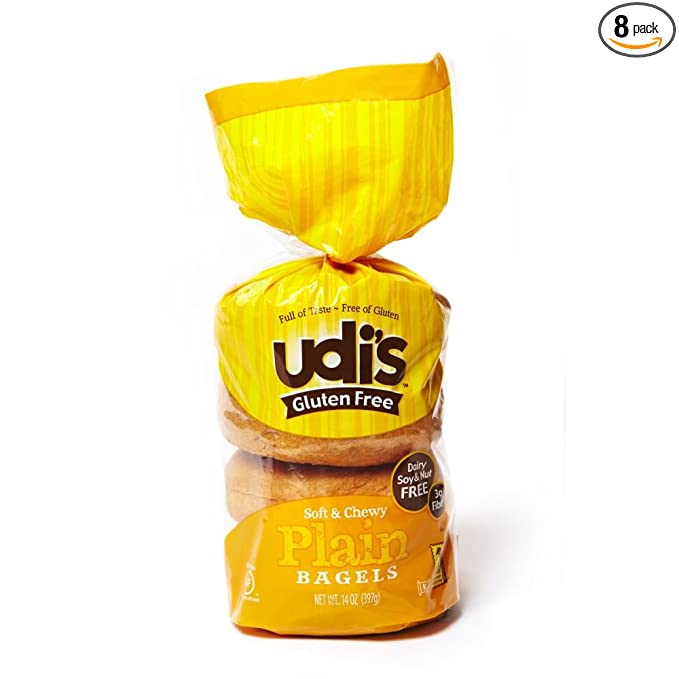 Udi's
Plain Bagels
Cinnamon Raisin Bagels
Whole Grain Bagels
Everything Bagels
Cross-Contact: Udi's website didn't have any information about how they avoid gluten cross-contact, so we reached out to them. In their email response, an Udi's representative said that their products are made in a shared facility, but they follow strict cleaning policies when switching from producing gluten products to gluten-free products. They also keep gluten ingredients segregated from gluten-free ingredients to help prevent any cross-contact with gluten. (Source: Email from CONAGRA)
Also, note that Udi's products have the GFCO certification mark.
---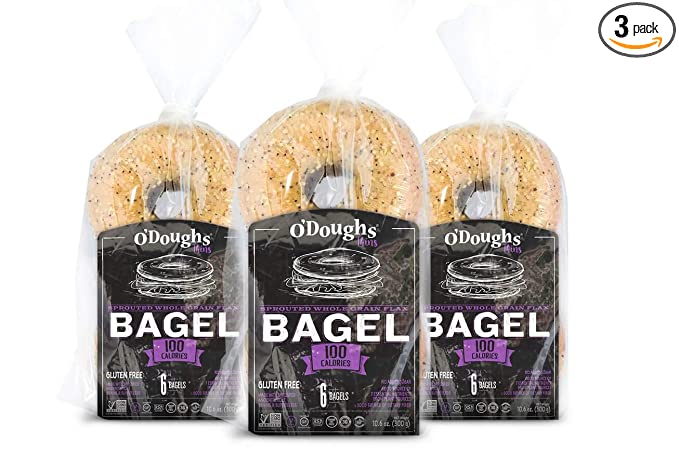 O'Doughs
Everything Bagel
Pumpernickel Bagel
Sesame Bagel
Original Bagel
Sprouted Whole Grain Flax Bagel
Apple Cranberry Bagel
Cross-Contact: O'Doughs website doesn't state how they avoid gluten cross-contact, so we emailed to find out more. In their response email, they told us that all of their products are made in a dedicated gluten-free facility. They also follow a Food Safety Standards Program to ensure the safety of their products. (Source: Email from O'Doughs)
---
What To Consider When Buying Gluten-Free Bagels
Let's be real for a second: Gluten-free foods are in their own world, and that's not always a good thing. However, brands have been able to make some legitimately delicious bagels that your friends won't even know are free from gluten. But you have to keep a few things in mind before you buy them so you can enjoy the best experience possible.
Head to the Freezer Aisle
If you have a hard time finding gluten-free bagels in your grocery store, it's likely that you need to check the freezer aisle. Gluten-free products are made with more moisture than traditional goods because gluten-free flour needs more hydration. Unfortunately, extra moisture also means the bagels will spoil faster, which is why most bagel brands choose to freeze their product to better ensure against spoilage.
Check the Expiration Date
Because gluten-free foods have a smaller consumer base, the products don't tend to fly off the shelf as fast as regular products. If a grocery store isn't great about rotating its supply, you might be buying an old bag of bagels. To avoid getting home and finding that your pack of gluten-free bagels expired months ago, it's always advised that you check the expiration date before you throw the item in your cart.
Look for Mold
To be on the extra safe side, give your bagels a look-over and ensure you don't see any mold on them. This isn't usually necessary for frozen bagels, but it's a must if you buy your bagels off the shelf.
However, sometimes it's hard to see through the packaging and really get a good look at the state of the bagel. If I know I'm set on purchasing something, I'll open up the package and look inside. Some people are probably horrified to hear that, but I've come home with moldy gluten-free baked goods too many times in my life to not check at this point.
Plus, either I'm buying it or telling the store attendant that it's moldy. It's fine to check. And gluten-free bagels almost always come in a two-part seal, so I can check out for mold without actually disturbing the product or making it unsafe for others.
Toast for Better Texture
As with most gluten-free bread products, toasting them before eating is always recommended for the best flavor. Some diehards believe that a good bagel should never be toasted, but that adage doesn't typically hold up the same with gluten-free bagels because they are dense and can be quite thick. If you want to struggle to swallow your bagel, don't toast it.
When you toast a bagel, it helps soften the crumb and can create a sturdier base for the toppings you want to put on it. Additionally, toasting can help better develop the flavor of the bagel, which is just a win when you're talking about GF baked goods.
Gluten-Free Bagels FAQ
---
What bagels are gluten-free?
The following brands have gluten-free bagels:
BFree
Canyon Bakehouse
Franz
Kinnikinnick
Little Northern Bakehouse
Schar
Trader Joe's
Udi's
O'Doughs
Can celiacs eat bagels?
Yes, celiacs can eat bagels as long as they are gluten-free. If you have celiac disease, you'll be safest eating bagels that are certified gluten-free and made in a dedicated gluten-free facility.
How long do gluten-free bagels last?
Gluten-free bagels typically last 2-3 days on the counter after the package has been opened. However, if put in the fridge, they can last about a week. Bagels in the freezer are good for 2-3 months.
Are gluten-free bagels good?
While some brands are better than others, gluten-free bagels are delicious and are a great addition to any gluten-free diet.
Are gluten-free bagels healthy?
Gluten-free bagels aren't inherently unhealthy and tend to pack the same number of calories as regular bagels. What toppings you choose to load your bagel with is the biggest determining factor in whether they are healthy, so it's helpful to stick to low-fat toppings if you're watching your weight.
Gluten-Free Bagel Brands You Can Trust
Which gluten-free bagel brands are your favorite? Is one missing from this list that you think the gluten-free community should know about? If so, comment below and share the love!
Go get your grub on!