People's Choice was founded in 1929 with the intention of building a "neighborhood butcher shop that sold premium meats with honesty, hard work and personal relationships." Four generations later, the Bianchetti family is still at the helm of People's Choice, where they make small-batch artisan beef jerky. That sounds delicious, but is People's Choice Beef Jerky gluten-free?
Gluten-Free Grubbin' is supported by its readers. We may earn an affiliate commission at no extra cost to you if you buy through our links. We promise we'll only share products that provide value to the gluten-free community.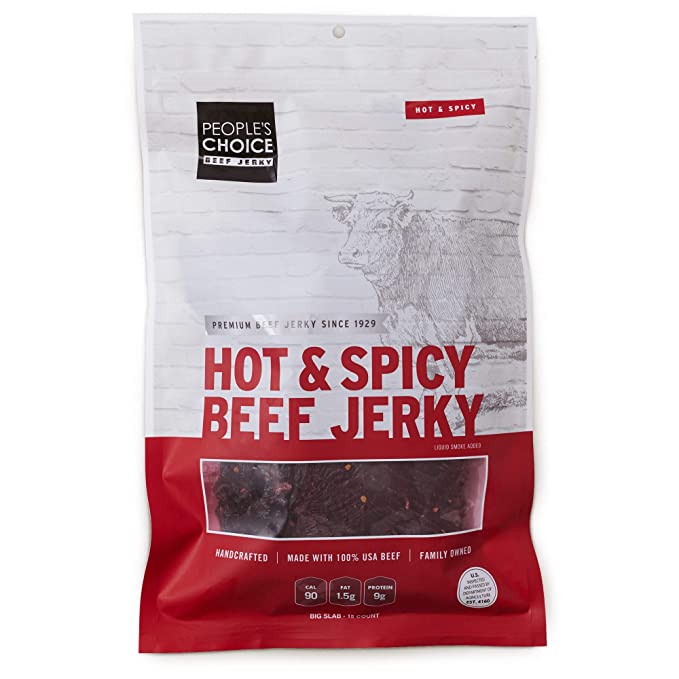 People's Choice Gluten-Free Beef Jerky List
People's Choice currently offers 10 different gluten-free beef jerky options. This updated list indicates which People's Choice beef jerky is gluten free:
Old Fashioned Original Beef Jerky
Old Fashioned Hot & Spicy Beef Jerky
Carne Seca – Limon Con Chile Beef Jerky
Carne Seca – Hatch Green Chile Beef Jerky
Carne Seca – Machaca – Jerky Chew
Tasting Kitchen – Nashville Hot Beef Jerky
Tasting Kitchen – Maple Brown Sugar Beef Jerky
Test Kitchen – Dill Pickle Beef Jerky
Mini Sticks – Sea Salt & Pepper Beef Sticks
Mini Sticks – Flamin' Hot Beef Sticks
This list has grown over the last year, so hopefully, People's Choice will start offering even more gluten-free jerky options over time.
Don't forget to check out our complete list of gluten-free jerky brands!
How Does People's Choice Beef Jerky Avoid Gluten Cross-Contact?
People's Choice Beef Jerky has nearly a dozen gluten-free jerky options, but just because a company has GF items doesn't mean that they have safe manufacturing practices. We sent PC an email asking about their facilities, and this was their response about how they avoid gluten cross-contact:
Thanks for your email. You are absolutely correct! We offer a range of gluten-free flavors.

All of our products are manufactured in our secure, USDA-inspected facility using the strictest food safety standards. We have an extensive checklist for verifying the effectiveness of our multistep
sanitation program between each batch.

Effective cleaning and sanitation procedures, which include debris removal, use of detergent solutions, rinsing with water, disinfection where necessary and dry cleaning, are required to achieve the correct level of hygiene in our production facility to prevent cross contamination.

If you have any other questions please don't hesitate to reach out.

Warmly,

People's Choice Beef Jerky
Well, it is kind of their response about how they avoid gluten cross-contact, because they don't directly mention gluten or allergens in their cleaning and sanitation procedures response. I want to assume that PC is talking about gluten, but you know how unsafe assumptions can be for someone who needs a gluten-free diet.
Don't get me wrong! I'm not implying that People's Choice Beef Jerky isn't actually gluten-free. I'm just taking out my detective's magnifying glass and making sure to amplify anything that could be a problem for some people.
So is People's Choice Beef Jerky actually gluten-free? Yes? Maybe? I think so! All of the products listed above carry a gluten-free label, at least on the PC website. Some are actually labeled GF on the physical product, although the company is inconsistent with this. What I mean is that some of the People's Choice gluten-free beef jerky products are sorted and labeled with a gluten-free designation on the People's Choice website, but not all of those same products carry a gluten-free label on the actual product itself.
Coupled with that information and an ingredients list that is fairly clear and easy to understand (there are some vague "spices" on some of the ingredients), and I think you can safely eat People's Choice Beef Jerky if you are on a gluten-free diet. If you are a celiac or highly sensitive to gluten, you should probably ask more questions about their manufacturing process before diving in.
Go get your grub on!