Mother's Day is just around the corner (May 14, 2023!). While we believe in honoring, respecting, and celebrating the women in our lives all year, Mother's Day is a special time to give back by giving the perfect gift. But finding a unique present for mothers or grandmothers with celiac disease or gluten sensitivities can be especially difficult. You can skip food items altogether, but what if she absolutely adores chocolate? Is it OK to give gluten-free gift baskets full of treats? And which candy brand is safe to get? And are those fancy face lotions actually free from gluten and safe for her?
To help you out, we've curated a list of the most thoughtful gluten-free Mother's Day gifts you can give, whether you're shopping for Mom, Grandma, mother-in-law, or your daughter who is now a mom. Heck, these gluten-free gift ideas are awesome for anyone who has good style and good taste.
Gluten-Free Grubbin' is supported by its readers. We may earn an affiliate commission at no extra cost to you if you buy through our links. We promise we'll only share products that provide value to the gluten-free community.
Best Mother's Day Gifts for Gluten-Free Moms
Are you looking for general ideas for Mother's Day gifts gluten-free people would love? We've got you covered. These presents are great for any mom, grandmother, or mother-in-law – any gluten-free woman in your life that you want to celebrate.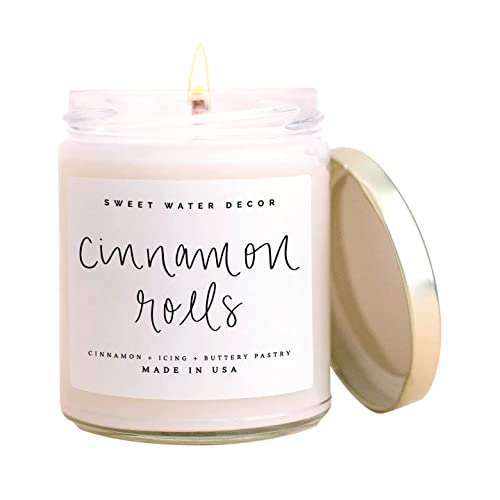 Sweet Water Decor Cinnamon Roll Soy Candle
Sadly, finding good gluten-free cinnamon rolls is difficult. They are usually too dense and crusty to mimic the real thing. But you can still help mom achieve that fresh-out-of-the-oven smell with this scented soy candle from Sweet Water Decor. This stylish 9 oz candle smells like buttery, sweet cinnamon rolls and has a 40-hour burn time.
(This candle has over 1,500 five-star reviews on Amazon!)
---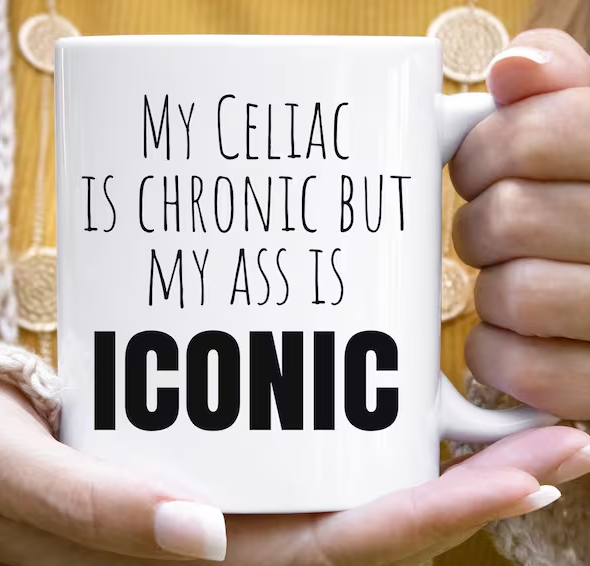 My Celiac Is Chronic but My Ass is Iconic Gluten-Free Mug
If you're looking for funny gifts for your sassy gluten-free mom, this mug has got your back(side)! Show her that she's still got all the right assets in all the right places with this gluten-free themed mug.
---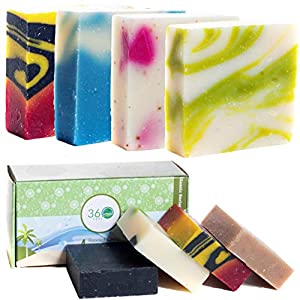 360Feel Assorted Handmade Luxury Soap Bars Gift Set, 20 Oz (Pack of 4)
If your mom loves luxury soap, this gift set from 360Feel is a must-buy. This handmade gluten-free soap is cold-processed and rafted with essential oils and natural exfoliants to leave her skin feeling like she just left the spa.
---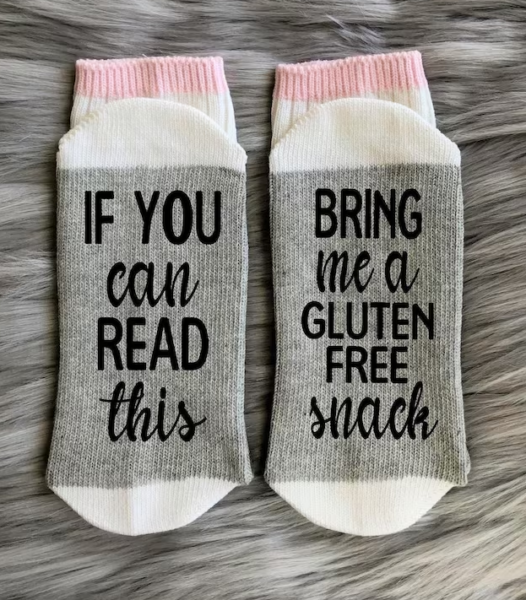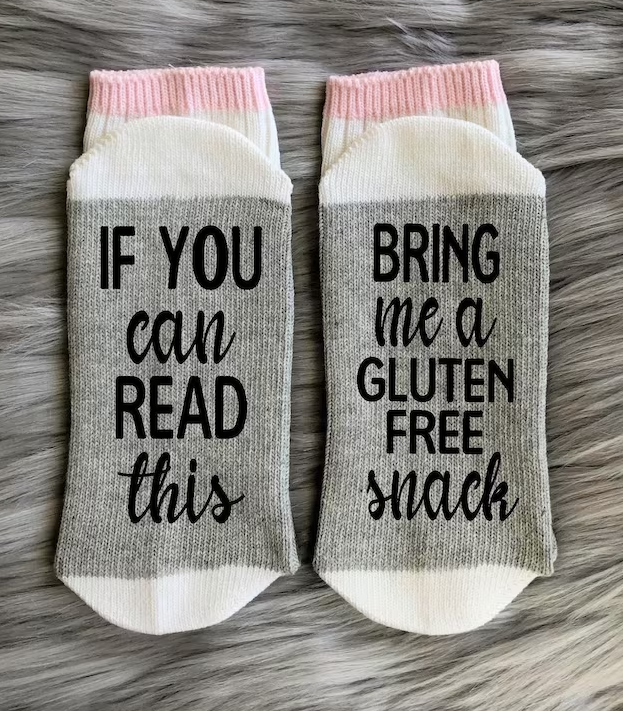 IfTheSockFitz Funny Gluten-Free Socks
For most ladies, one of the best Mother's Day gifts is something that makes them smile. These socks with funny gluten-free sayings can be the perfect addition to a gift set, or even given alone if your family likes to keep Mother's Day more low-key.
If you love the concept but want a different saying, check out the listing. This vendor offers 9 different sock sayings, as well as custom options.
(This seller has made over 95,000 sales and has a 5-star rating! WOW!)
---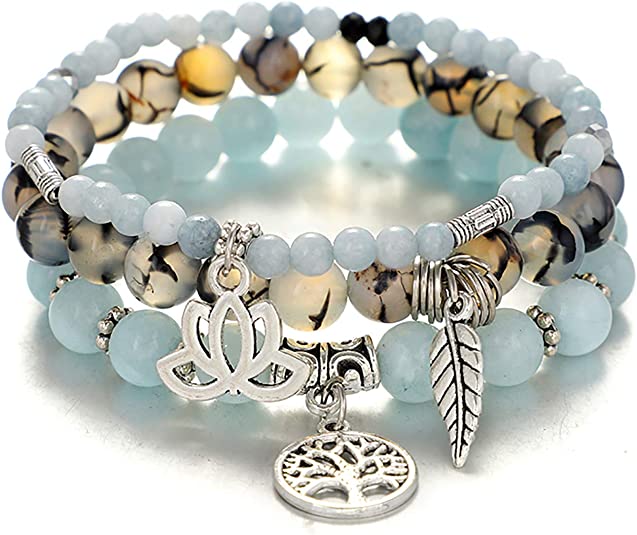 UEUC Tree of Life Yoga Healing Stone Bracelets
The gluten-free lifestyle will always be one of health and growth, whether you have celiac disease or gluten sensitivity. These healing stone bracelets are a great gift for Mom to show her that her journey toward health hasn't been easy, but you'll be there to support her every step of the way.
(These bracelets have over 1,800 five-star reviews on Amazon!)
---
Best Food Gifts for Your Gluten-Free Mom
Some of the best presents for Mom are sweet treats. We've rounded up a bunch of the tastiest (and prettiest!) gluten-free treats you can give her on Mother's Day.
One note about giving gluten-free food as a present: It's tricky. You don't want to waste money gifting something she doesn't feel comfortable eating, so make sure you know the boundaries/sensitivities of the person you're giving food to. Everyone is different, and not every gluten-free person needs to abide by super strict limitations, so check in with them to see where they draw their line.
And make sure you have a VERY clear understanding of where the food is coming from before you buy the gift. If you're buying from a bakery, for example, ask them questions about how they run their kitchen so you can be sure the food is actually safe.
If that all sounds super overwhelming, don't worry! When in doubt, just select a certified gluten-free item (we have some below) because the testing and due diligence have already been done for you.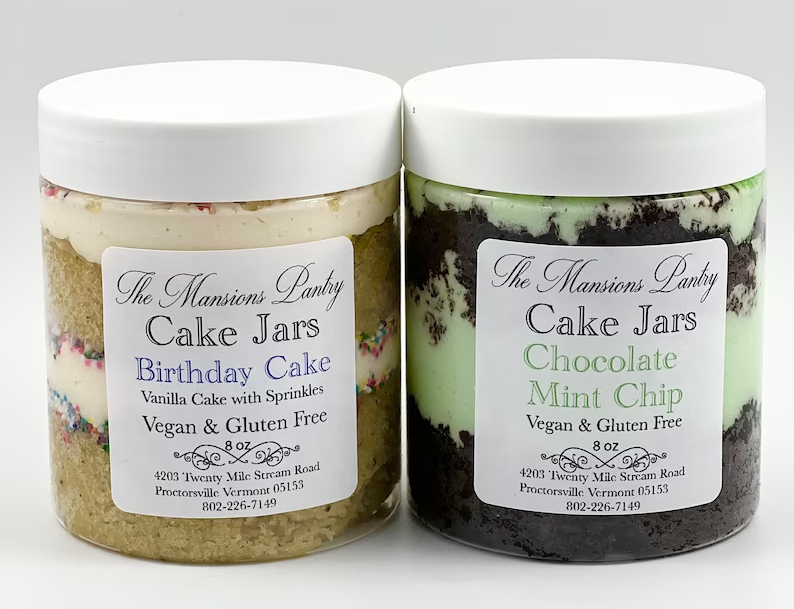 The Mansions Pantry Gluten-Free Cake Jars
Look at how adorable these gluten-free, vegan cake jars are. You get to pick two different flavors, and they have a lot of delicious offerings, from red velvet to lemon raspberry. You're sure to find a flavor your mom will love.
---
Customizable Box of 15 Assorted Artisan Chocolates from LaRoseToTheOccasion
These assorted artisan gluten-free chocolates are one of the prettiest things on the list. They are handmade with care and are just the gift for moms who like sweets and sophistication.
These Mother's Day chocolates are celiac-safe and have a floral theme. Check out the unique flavors they offer:
Rosé pate de fruit with a yuzu white chocolate ganache
Bright lemon reduction balanced with a brown butter caramel
A black forest spin: Cherry pate de fruit with a Kirschwasser ganache and vanilla ganache
Espresso-infused dark chocolate ganache layered with salted caramel and a dulce de leche "milk foam"
Caramelized honey caramel with an earl grey infused ganache
---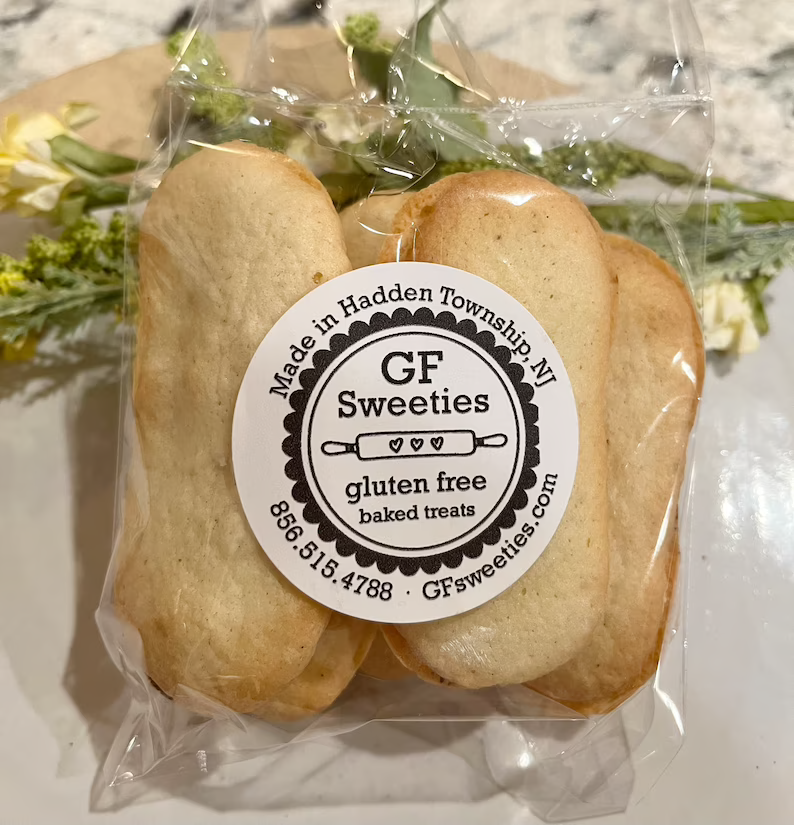 GF Sweeties Gluten-Free "Milano" Cookies
Did the lady in your life love Milano cookies before she went gluten-free? We have you covered! We're talking sweet, subtle cookies and dark chocolate that will bring back the best of memories.
This 100% gluten-free bakery has cookies that are about as close to the real thing as you can find. And rest assured that they have a celiac-safe commercial kitchen, so your mom can fully trust this gift!
---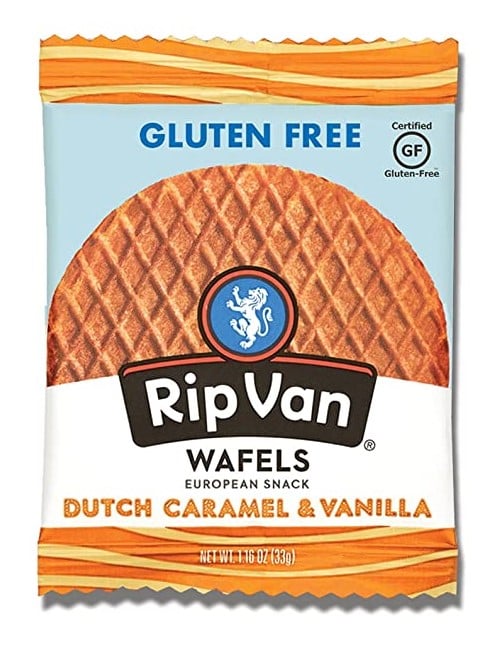 Rip Van Wafels Gluten-Free Stroopwafel
This Dutch treat is certified gluten-free and strikes a scrumptious balance between caramel and vanilla. And best yet, each stroopwafel is individually wrapped, so your mom can savor this cinnamony, sweet gift for as long as she'd like.
---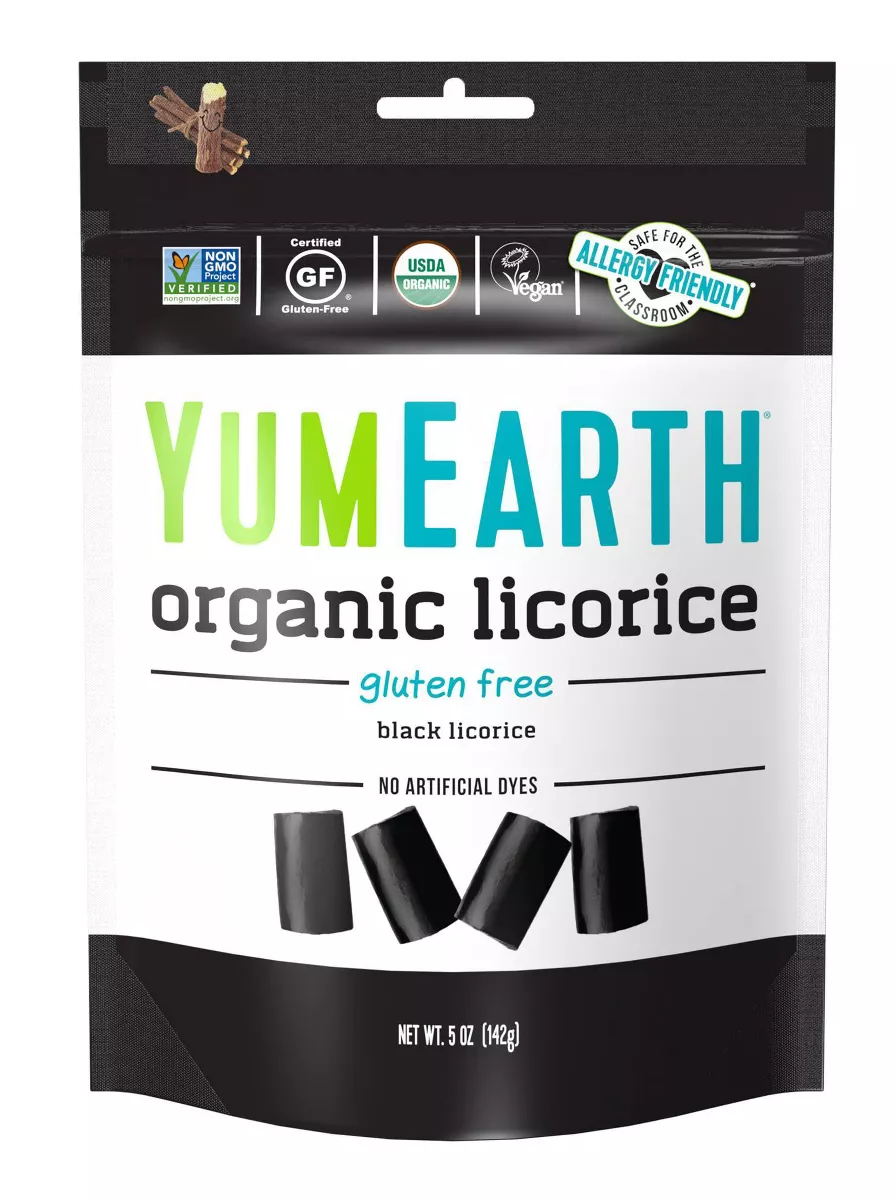 Yum Earth Organic Gluten-Free Licorice
Sure, black licorice is a pretty divisive treat, but many moms out there would love to get this gluten-free present for Mother's Day. Good gluten-free licorice is very hard to find because it can be dense or hard. Yum Earth's licorice is firm but soft and easy to chew. It's also organic and vegan!
And don't worry – Yum Earth has all red licorice lovers covered as well, if that's more your mom's jam.
---
Best Gluten-Free Gifts That Will Seriously Impress Your Mother
Your mom has given you a lot, and sometimes you want to give back in a big way. Check out this list if you're looking for gluten-free Mother's Day gifts that will seriously knock her socks off.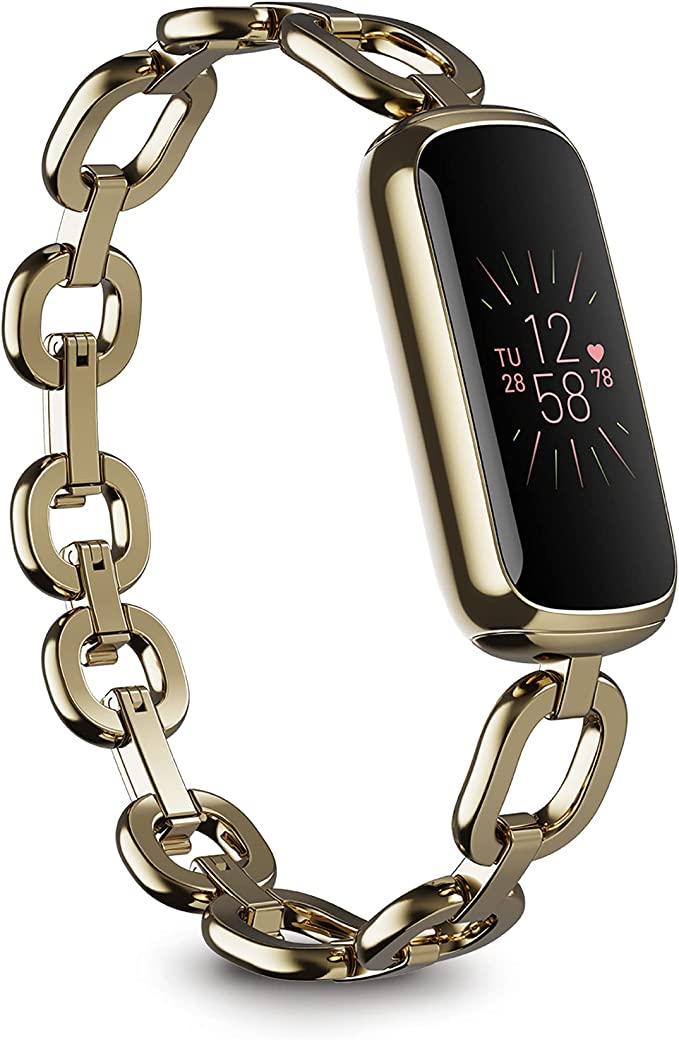 Fitbit Luxe Special Edition Fitness and Wellness Tracker, Gorjana Soft Gold Stainless Steel Parker Link Bracelet
Living a gluten-free lifestyle forces you to confront your eating habits and work toward healthier goals. Help the special gal in your life tune in to her body and track her progress with this absolutely gorgeous gift that looks like jewelry but is actually a smart tracker with a vibrant color display.
---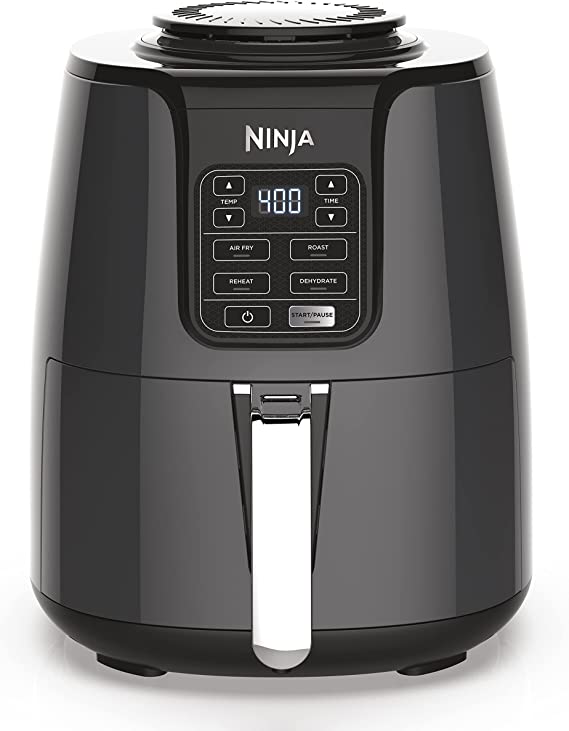 Ninja AF101 Air Fryer
If your mom has a shared kitchen, then using the air fryer with gluten-containing foods puts her at risk. Get her her own air fryer so she can enjoy guilt-free food safely, and she'll be showing off this Mother's Day gift to all her friends.
---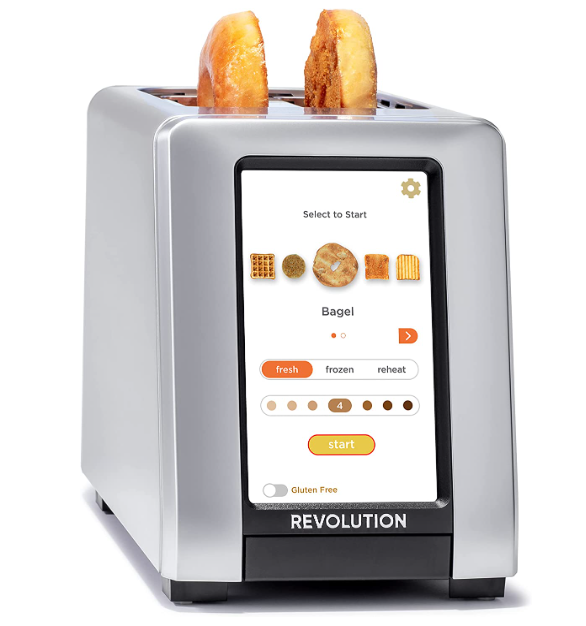 Revolution R270 Touchscreen Toaster with Patented InstaGLO® Technology
Featured as one of Oprah's Favorite Things last year, this Revolution R270 Touchscreen Toaster is WOW! It has 16 gluten-free modes – SIXTEEN – that can help you cook your gluten-free baked goods to perfection. If you're looking for a Mother's Day gift that will have her jaw dropping on the floor, this will do it.
No Gluten Gabby did a great review on this toaster if you want to see more:
---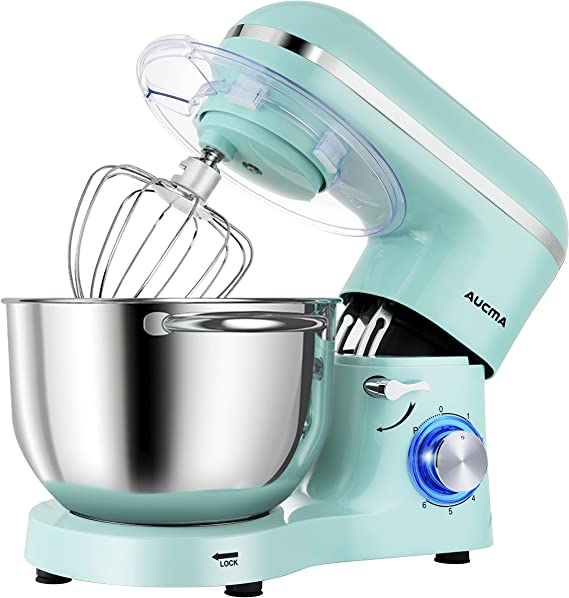 Aucma Stand Mixer,6.5-QT 660W 6-Speed Tilt-Head Food Mixer
One truth about gluten-free dough is that you need to mix some of them a lot to get a texture that's not reminiscent of grainy paste. That's because gluten adds texture and structure to doughs, and without that gluteny goodness, you need to work miracles to get a dough that's not hard and full of holes. That means whipping that dough. Don't make Mom bust her hand manually mixing. Get her this high-quality mixer, and she will love you (and probably share all her gluten-free baked goods with you).
(This electric stand mixer has over 11,300 five-star reviews on Amazon!)
---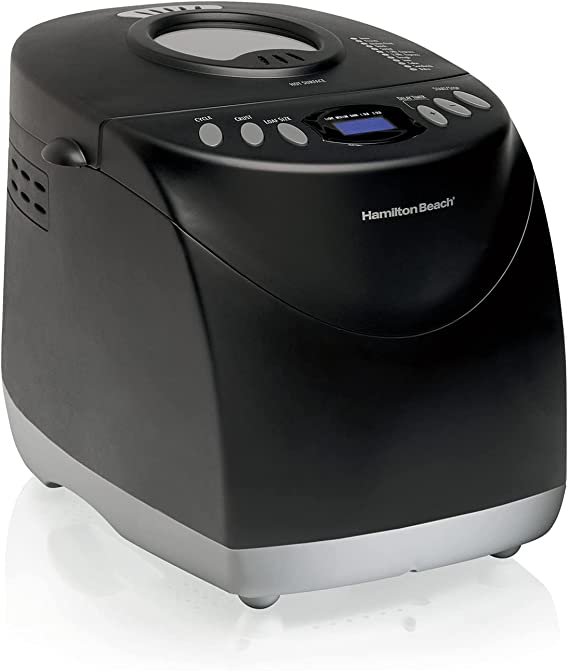 Hamilton Beach Gluten-Free Bread Maker Machine
Did you know that using any old bread maker for gluten-free loaves can yield poor results? Enter the Hamilton Beach bread maker with a gluten-free setting! Gluten-free dough tends to be stickier and more delicate than gluten-containing doughs, so GF dough needs longer kneading cycles and extra rising time. Mom doesn't need to toil with failed experiments to make good gluten-free bread. Get her this bread maker for her Mother's Day gift, and you'll reap the warm, delicious rewards alongside her.
---
Best Gluten-Free Gift Ideas Under $20
Are you low on cash but still looking for Mother's Day gifts that don't look like you grabbed the first thing you saw? We've handpicked the following presents to show you that inexpensive gluten-free gifts for her don't have to be cheap looking. You can pair them with other items or just gift wrap them alone. Either way, the woman you're celebrating will be happy.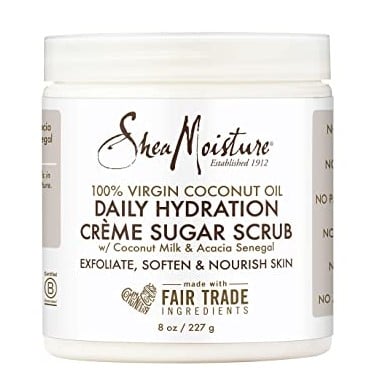 Shea Moisture Daily Hydration Crème Sugar Scrub With Virgin Coconut Oil
Add coconut oil, coconut milk and raw sugar, and what do you get? It sounds like a milkshake recipe, but it's just as good: a luxurious, gluten-free creme sugar scrub.
---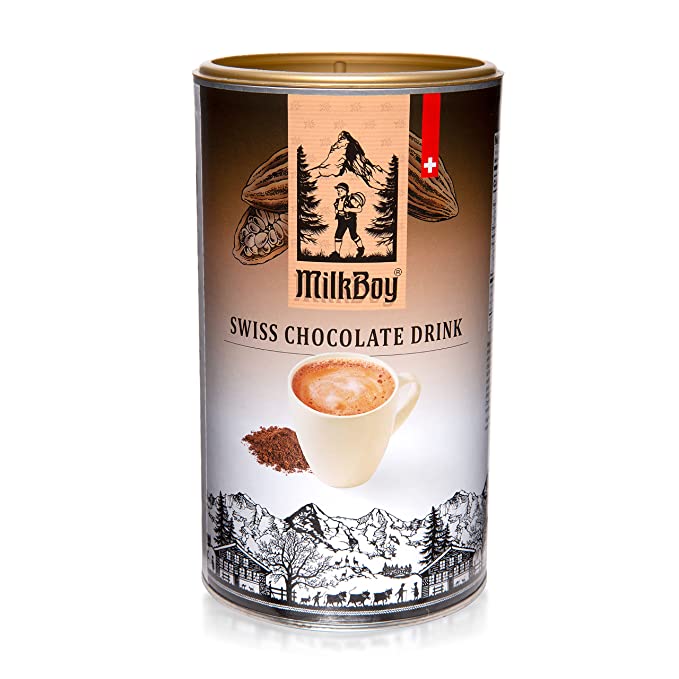 MilkBoy Gourmet Swiss Drinking Chocolate
If you're looking for a sweet gift for your gluten-free, dairy-free mom, stop right here. MilkBoy's Swiss hot chocolate is non-dairy and vegan. When she pairs this rich, velvety treat with milk (or milk alternatives), she'll create a truly indulgent beverage.
---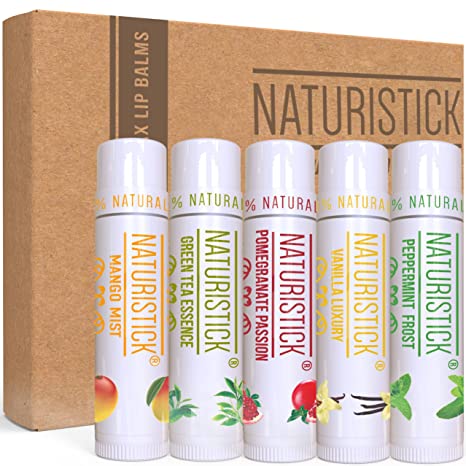 5-Pack Lip Balm Gift Set by Naturistick
This 5-pack certified all-natural beeswax lip balm packs a big punch in a small price tag. With five naturally soothing flavors, your mom can enjoy this gluten-free gift all year long.
---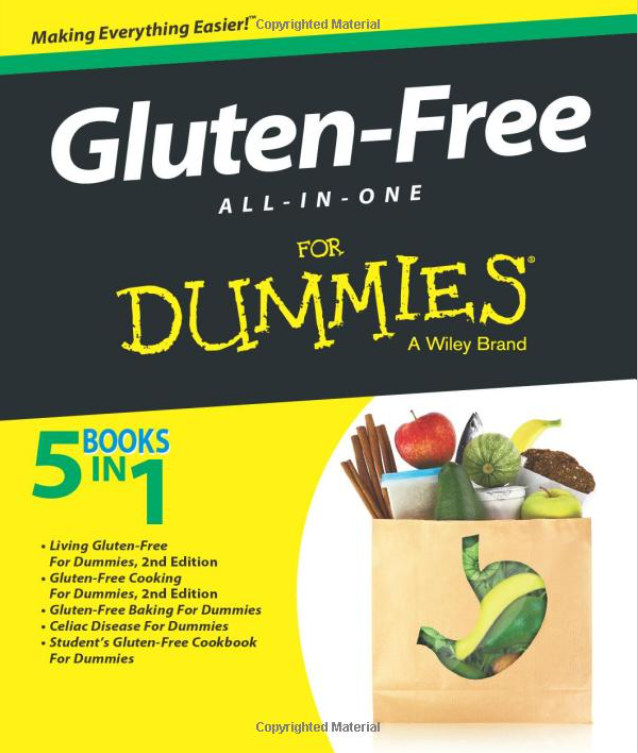 Gluten-Free All-in-One For Dummies Guide
When the doctor diagnoses you with celiac disease or as being gluten sensitive, you're not given a manual to figure out what your new gluten-free lifestyle should look like. Until now!
Gluten-Free All-In-One For Dummies will guide your mom with a wealth of information to help her better learn how to navigate gluten-free living. It doesn't matter if she's been gluten-free for a day or 10 years; your mom will learn valuable lessons about living a life free of gluten and avoiding accidentally getting sick (which happens to us all).
---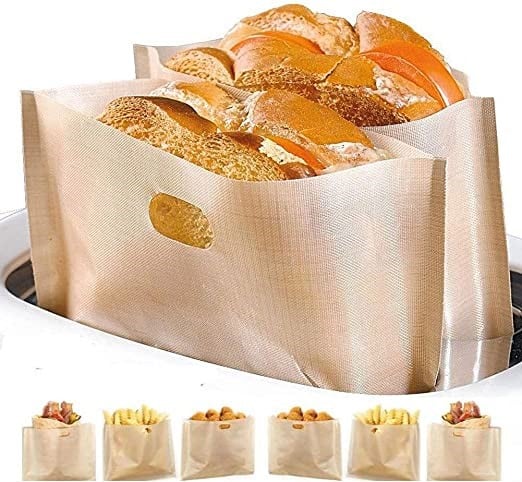 Reusable Toaster Bags by Yoocool
OK, hear us out: This may not seem like the best idea for a Mother's Day gift, but we promise it is. If you have a shared household, then using a toaster that has touched gluten-containing bread is unsafe. So Mom needs either her own toaster (we have a great one above!) or these non-stick reusable toaster bags. This Mother's Day gift is so thoughtful that you'll catch your mom crying over her gluten-free toast out of gratitude.
---
Best Gluten-Free Shirts for a Mom With a Sense of Humor
Many people love repping the gluten-free lifestyle and doing so with humor and style. If you're looking for a gluten-free T-shirt to give to your mom, grandma, or wife on Mother's Day, we've got you covered. (Literally. Get it?!)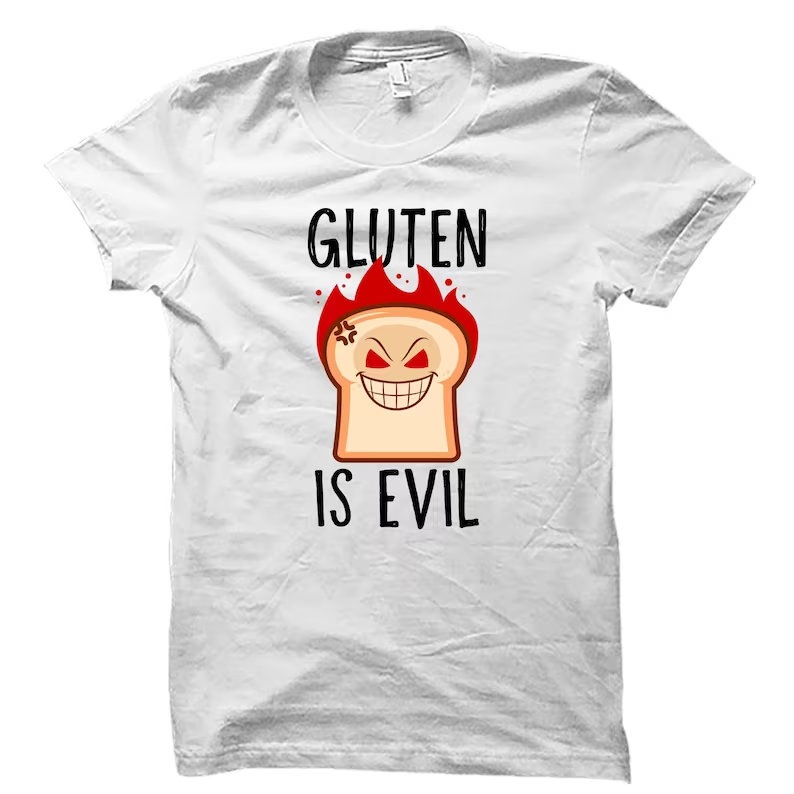 Gluten Is Evil T-Shirt by öTZIshirts
Tell the world how evil gluten is with this funny T-shirt and unique design.
Allow 1-4 days for production time and another 3-4 days for shipping.
(This seller has nearly 127,000 sales and a five-star average on Etsy. Wow!)
---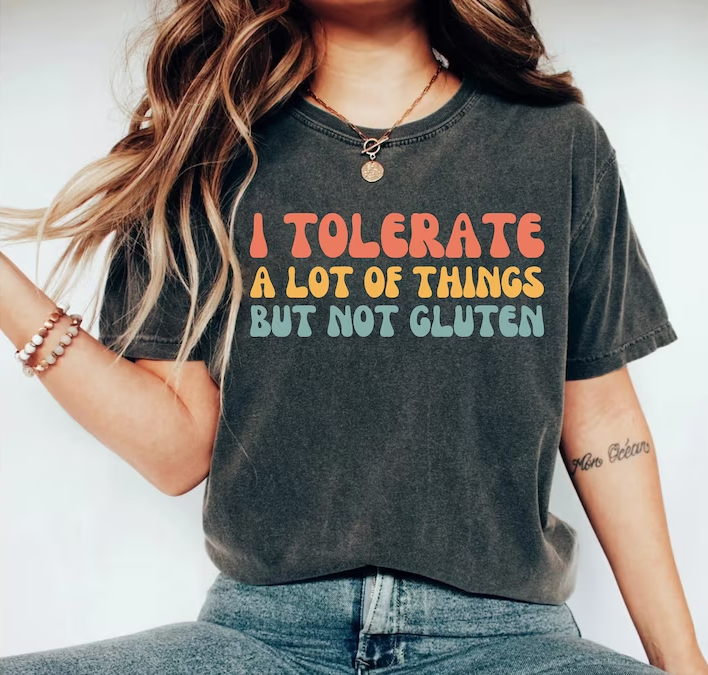 I Tolerate a Lot of Things But Not Gluten T-Shirt by Ikerson LTD
This T-shirt vendor on Etsy offers quality DTG prints on super soft 100% cotton shirts.
Allow 1-3 days for production time and another 2-5 days for shipping.
(This seller has over 146,000 sales and a five-star average on Etsy. Amazing!)
---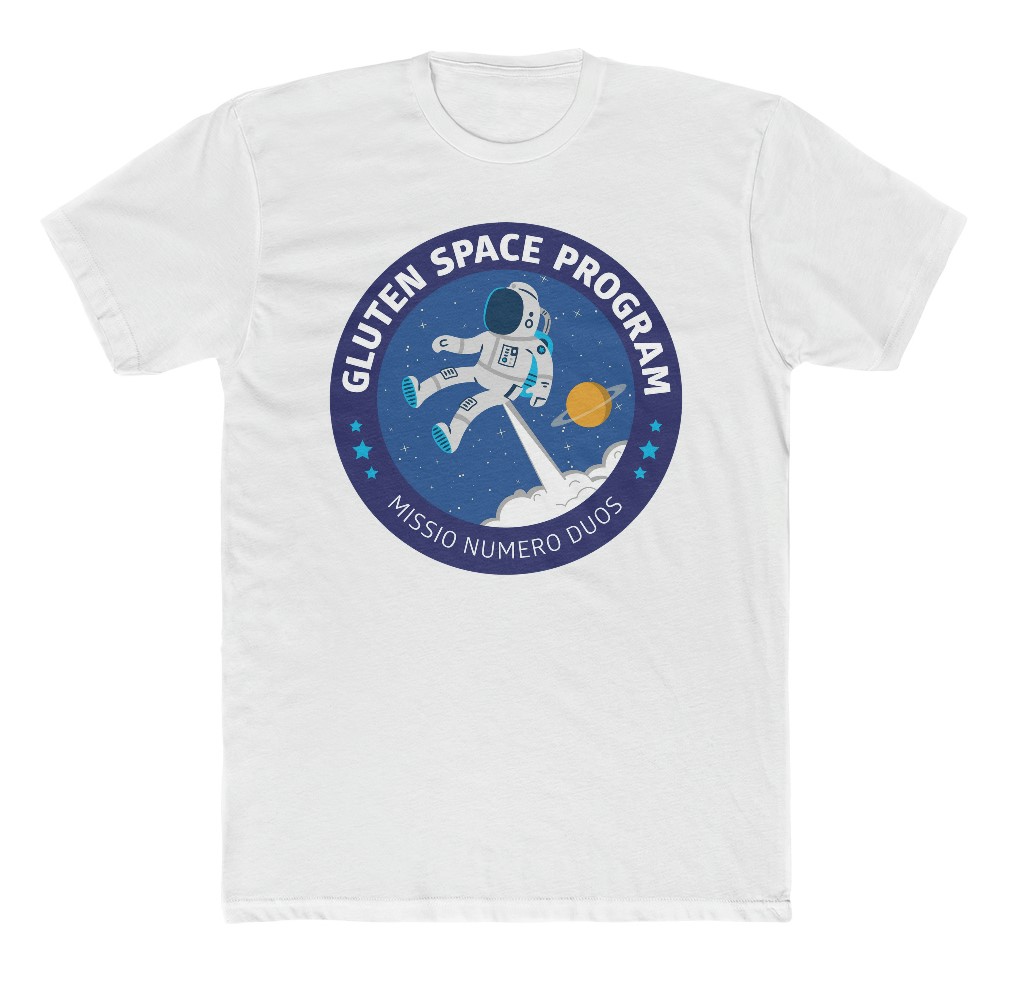 Gluten Space Program T-Shirt by Gluten-Free Grubbin'
If your mom has a bit of a crass sense of humor, she'll love this T-shirt that pokes fun at how rumbly her tummy can get when she eats gluten.
Production and shipping for this high-quality, comfy DTG printed shirt take about 2-5 business days in the US and up to 10-30 for Canadian customers.
---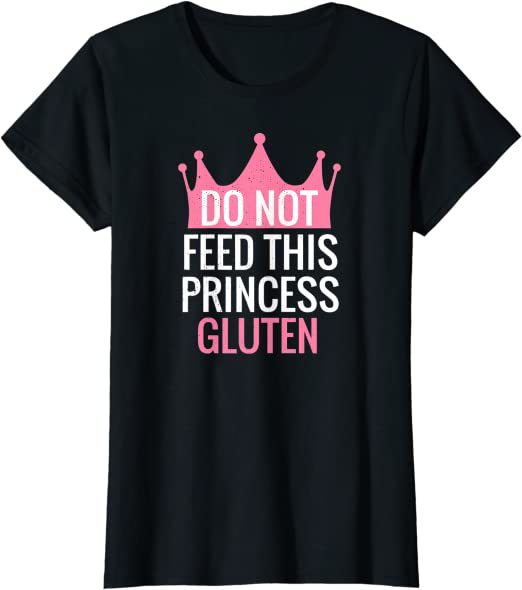 Do Not Feed This Princess Gluten T-Shirt
Is your mom a princess who loves to let the world know she's gluten-free? (I know I am!) Give her this funny shirt so she can speak her truth without saying a word.
---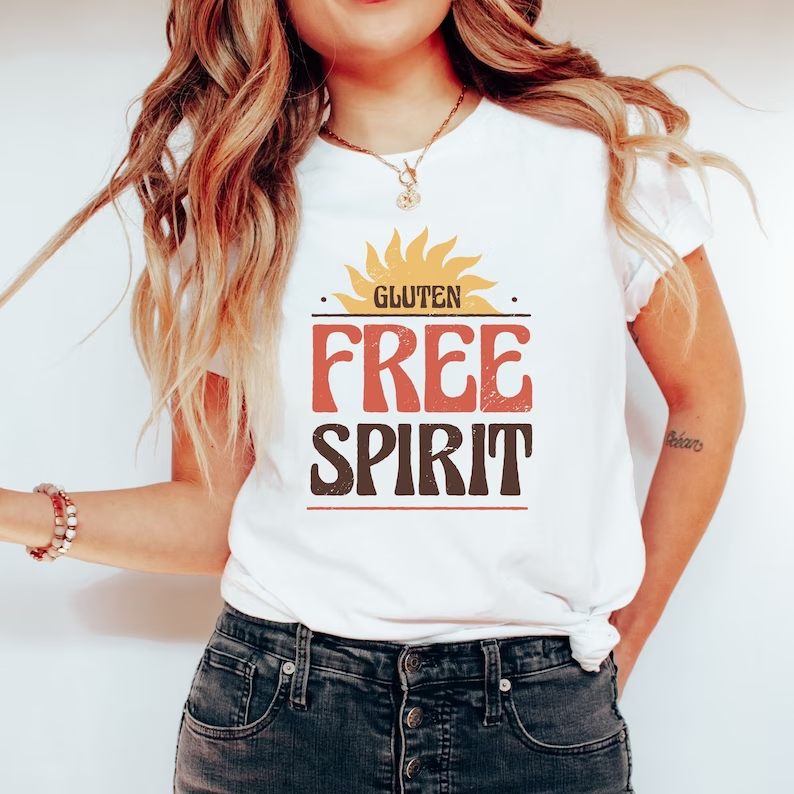 Gluten-Free Spirit T-Shirt by LuxVelvetStudio
Is your mom a free spirit? Is she also gluten-free? Well, do we have the right gluten-free Mother's Day gift for her!
These 100% Airlume combed and ringspun cotton shirts have ribbed knit collars to help them keep their shape for longer, which means Mom can look stylish for years to come.
Production and shipping time can take between 6 and 13 days, so order early.
---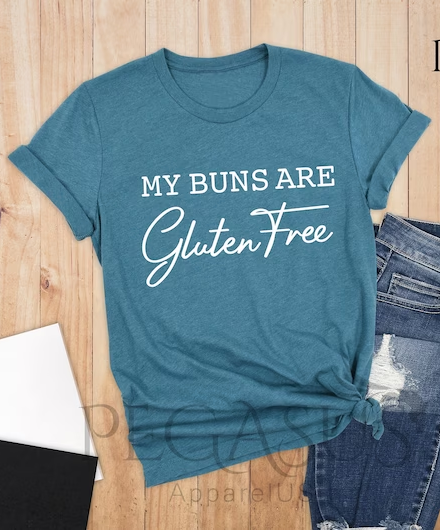 My Buns Are Gluten-Free T-Shirt by Pegasus Apparel
This soft-style T-shirt has a cute double meaning that will surely put a smile on your mom's face when she opens her Mother's Day present.
Plan for 2-6 business days for processing time and shipping, but they offer priority shipping options if you need the shirt sooner.
(This seller has over 65,000 sales on Etsy and a five-star rating!)
---
Best Gluten-Free Gift Baskets for Mother's Day
The greatest thing about giving gluten-free gift baskets or gift boxes on Mother's Day (or any day, really) is that you can give a great-looking, thoughtful and personalized present with almost zero effort. With a gluten-free gift basket, you can safely pamper your mom, wife, grandma or mother-in-law who has celiac disease or gluten intolerance and give them truly indulgent treats they can trust.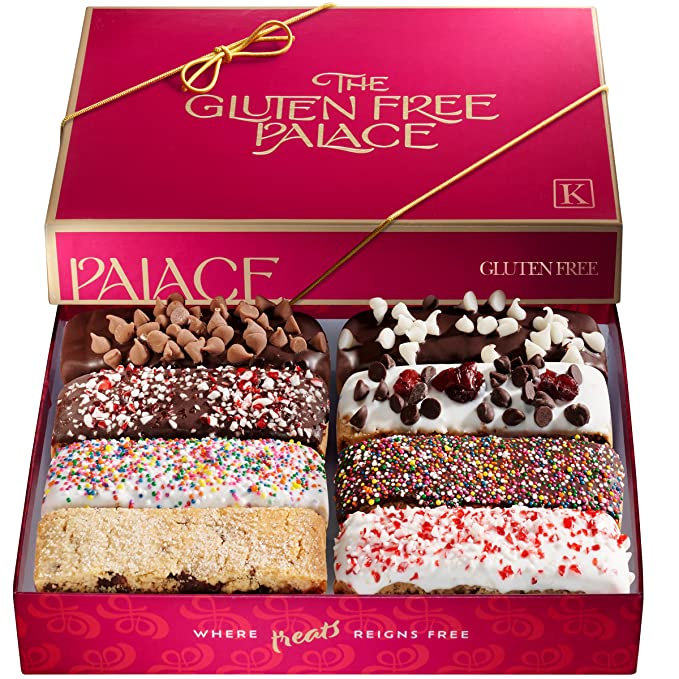 Gluten-Free Biscotti Gift Basket from The Gluten Free Palace
This biscotti gift basket offers handmade gluten-free Italian cookies that are as decadent as they are gorgeous. Send these certified gluten-free, dairy-free biscotti straight to her door, and you'll be sure to impress.
---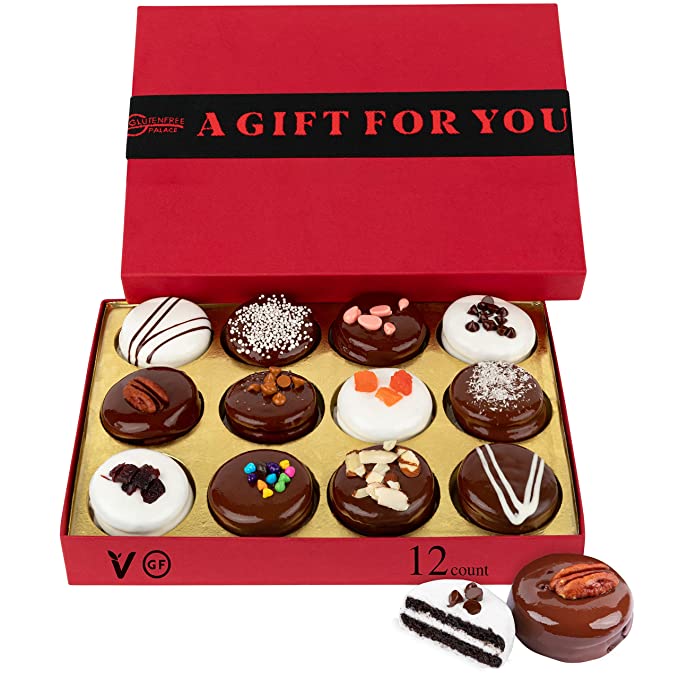 Gourmet Chocolate Covered Gluten-Free Cookies Gift Basket from The Gluten Free Palace
Skip the boring cheese and cracker gift basket and go for the gourmet gluten-free cookies. Someone had the brilliant idea to take chocolate sandwich cookies and dip them in luscious dark chocolate. Give mom one of the most decadent tasting experiences of her life with this gluten-free Mother's Day gift.
---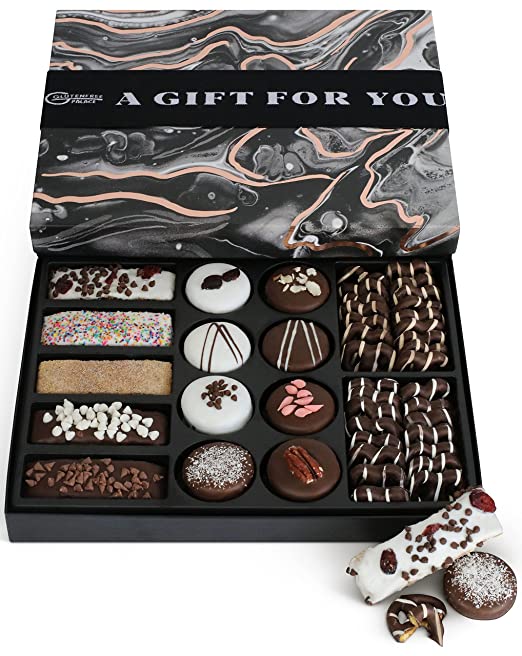 Deluxe Cookies Gluten-Free Gift Basket (Assorted Treats) from The Gluten Free Palace
What's better than a biscotti gift basket and a chocolate-covered cookie gift basket? Gluten-free gift baskets that contain biscotti, chocolate-covered cookies and chocolate-covered pretzels all in one. Give your mom the gift of decadent selection with this luscious Mother's Day gift.
---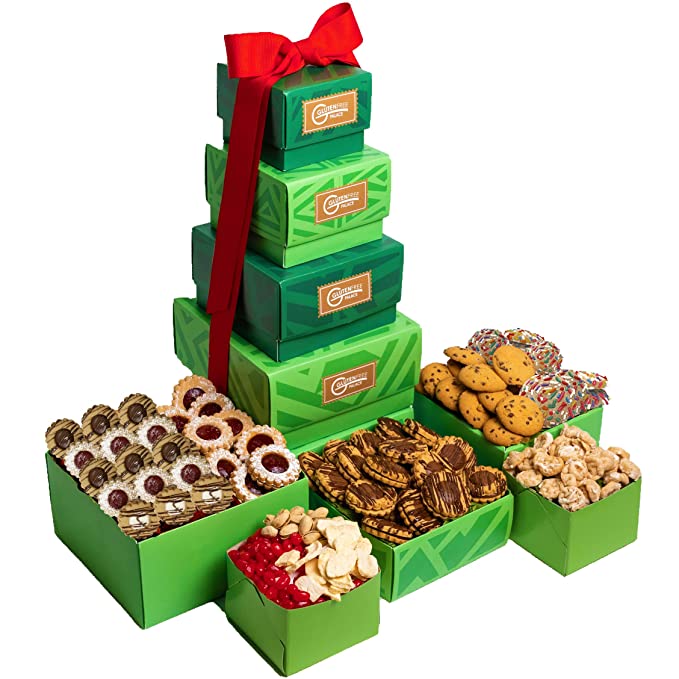 Tower Gluten-Free Snack Gift Basket from The Gluten Free Palace
If you want to really wow your mother on her special day, get her this deluxe tower of goodies. It contains gourmet biscotti, chocolate fancy cookies, fruit crisps, nuts, Drizzleliscious rice cakes, and other assorted sweets – all GF! The variety in this gluten-free gift box is unreal and will leave her wondering what she did to deserve such a fantastic gift.
---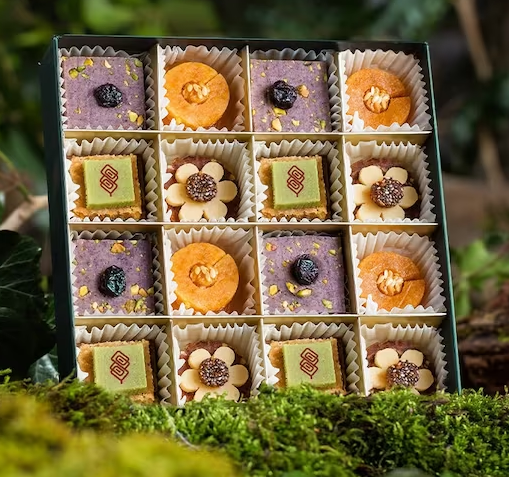 Superfood Parfait Collection Gluten-Free Gift Box by Laumiere Gourmet Fruits
If your wife, mom or grandmother prefers natural gourmet treats that are free from sugar, we have just what you're looking for. This gluten-free parfait gift box collection features quality dried fruits, seeds and nuts in an elegant array that offers a delectable flavor combination.
---
Find the Perfect Gluten-Free Mother's Day Gifts
We hope these GF gift ideas inspire you in your search to find the perfect gluten-free Mother's Day gift for the celiac or gluten-intolerant woman in your life. And whether you get her cute socks, an impressive toaster, or gluten-free gift baskets, just know that she's going to be really touched that you thought about her health needs and went out of your way to keep her safe.
Don't forget to share with us in the comments below what you ended up getting her!