If eating onions were a sport, I would be the world champion. One of my favorite ways to eat onions is in an onion soup mix. You can make it into a dip (it is top-notch with your Thanksgiving spread!), use it to season a roast, or even add it to your hamburger meat to take your summer grilling to the next level.
Regardless of how you choose to use onion soup mixes, when you can't eat gluten, you need to know, "Is onion soup mix gluten free?"
---
Don't forget you need gluten-free crackers to eat with your dip!
---
Top Gluten-Free Onion Soup Mix Brands You Should Try
Everyone knows that Lipton is the OG of onion soup mixes. Unfortunately, there are no gluten-free Lipton onion soup mixes on the market, so we put together this list of gluten-free onion soup mix brands you can trust. Some of them are so good that they just might become your new favorite!
We may earn an affiliate commission at no extra cost to you if you buy through our links. We promise we'll only share products that provide value to the gluten-free community.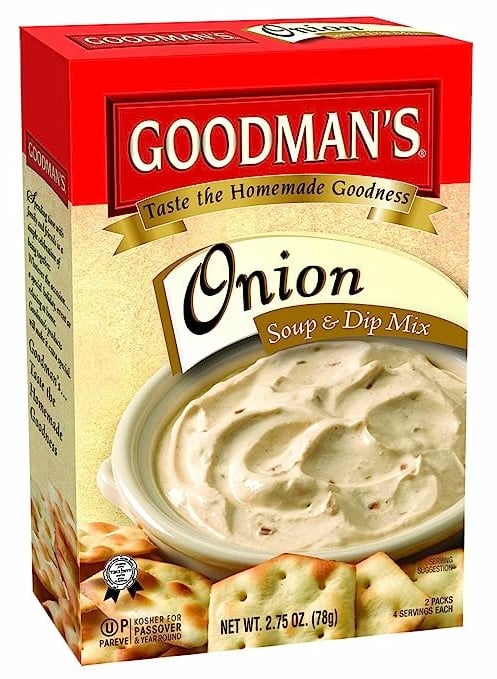 Goodman's
Goodman's onion soup mix is certified gluten-free and kosher.
Goodman's offers two gluten-free soup mix options:
Cross-Contact: Goodman's has no information regarding how they prevent allergen cross-contact in their manufacturing process. However, we love that their soup mixes are certified gluten-free.
It's important to note that many of their GF onion soup product images show inconsistent packing, but Goodman's does have products with the certified gluten-free label.
Goodman's Onion Soup and Dip Mix Ingredients: Onions, Salt, Sugar, Potato Starch, Monosodium Glutamate, Vegetables Shortening (Partially Hydrogenated Cottonseed Oil), Tomatoes, Mushrooms, Caramel Color, Paprika, Garlic, And Pepper.
Goodman's Low Sodium Onion Soup and Dip Mix Ingredients: Onions, Sugar, Potassium Chloride, Potatoes (Sulfites Added To Preserve Whiteness), Palm Oil Monosodium Glutamate, Garlic Powder, Potassium Citrate, Mushrooms, Paprika, Spices (Celery Seed & White Pepper), Carmel Color.
---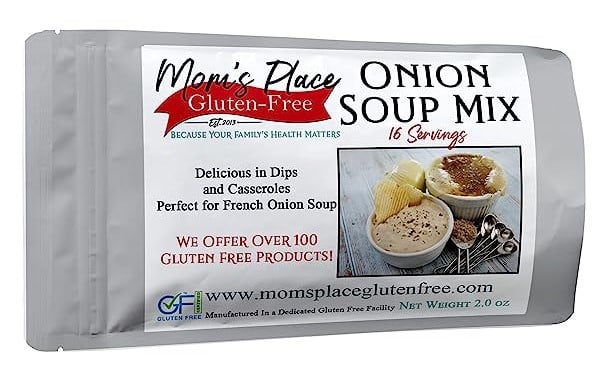 Mom's Place Gluten-Free
Mom's Place has only one onion soup mix, and it is certified gluten-free:
Cross-Contact: Mom's Place Gluten-Free products are made in a dedicated gluten-free facility, so everything is safe to eat without worry. Their products are also egg-free and peanut/tree-nut free.
If you have other dietary restrictions, you can also filter Mom's Place products by lactose/dairy/casein-free, sugar-free, potato-free, soy-free, and yeast-free. (Source: Mom's Place)
Ingredients: Beef Bouillon (Salt, Soy Protein, Sugar, Torula Yeast, Caramel Color, Onion Powder, Yeast Extract, Natural Flavors, Citric Acid), Chopped Onion, Non-gmo Cornstarch, Onion Powder, Non-dairy Butter Powder (Coconut Oil, Tapioca Maltodextrin, Pea Protein, Salt, Natural Flavors), Parsley
Contains Soy, Corn, Coconut
---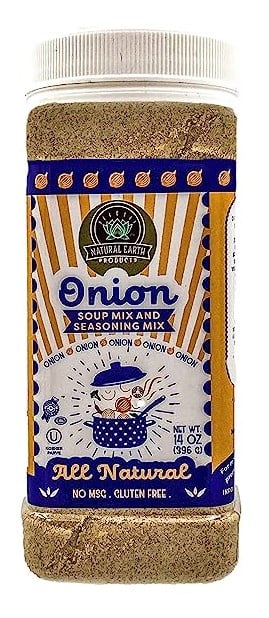 Natural Earth Products
Natural Earth has only one gluten-free onion soup mix, but it is also organic, kosher, and free of MSG.
Cross-Contact: Natural Earth Products doesn't have any information regarding how they prevent cross-contact in their products, so we have contacted them. We will update this article if they respond.
Ingredients: Dextrose, Corn Starch, Salt, Potato Starch, Vegetable Oil (Soybean), Vegetable Shortening (Palm/soybean), Dehydrated Vegetables, Hydrolyzed Vegetable Protein (Soybean), Spices, Tocopherol, And Caramel Color.
---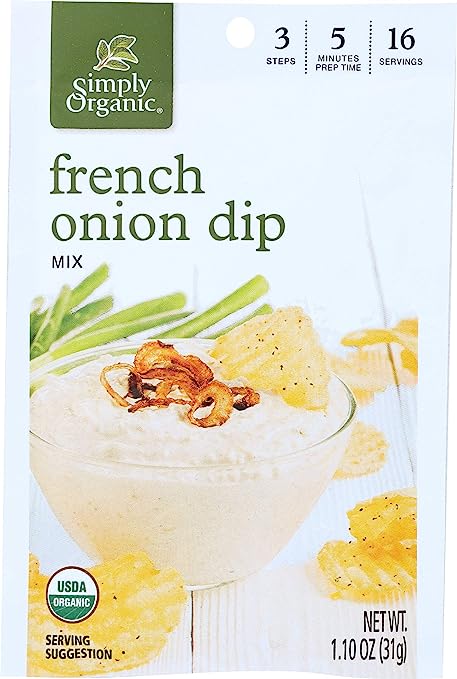 Simply Organic
Simply Organic products are all certified organic and kosher, as well as vegan.
Cross-Contact: While the French onion dip mix is certified gluten-free, the onion and chive dip is not. However, the onion and chive dip mix has no gluten-containing ingredients on the nutrition label. Regarding that, their website says, "We do not test for gluten in all products, only those certified gluten-free (by GFCO) under the Simply Organic brand. We don't make gluten-free claims for any other products because even tiny amounts of gluten can be a problem, and these may be present in our facility or the facilities of our suppliers."
They also commented about allergens in their facility: "We manufacture some products within our facility with ingredients that contain allergens. When ingredients with allergens first arrive at our facility, we are careful to identify them, tag them and isolate them in storage. When we process products that have any of these ingredients, we do a special cleanup afterwards to prevent the allergens from carrying over to subsequent processing. We provide full disclosure of all ingredients on our labels, so you can check there for any allergens you wish to avoid." (Source: Simply Organic)
Simply Organic Onion & Chive Dip Ingredients: Organic Onion, Organic Garlic, Organic Cane Sugar, Sea Salt, Organic Rice Concentrate, Organic Chives, Organic Black Pepper.
Simply Organic French Onion Dip Mix Ingredients: Organic Onion, Organic Maltodextrin, Sea Salt, Organic Garlic, Organic Black Pepper.
---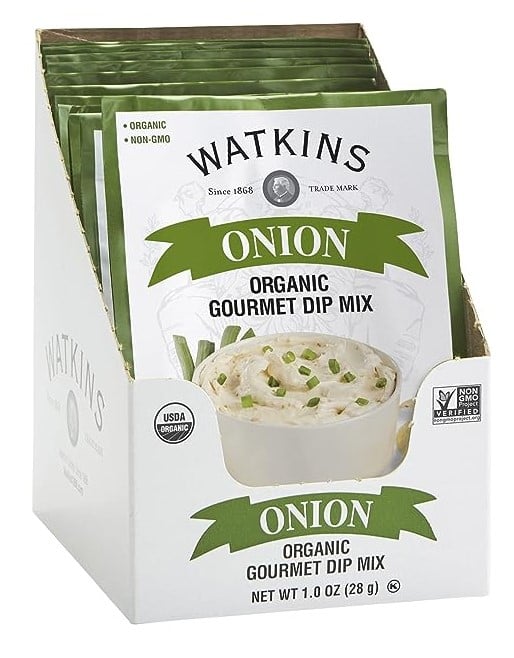 Watkins
Watkins only has one gluten-free onion dip mix, and it is certified organic and non-GMO.
Cross-Contact: Watkins website says that while they do make some products that contain gluten in them, they have a "robust allergen management program that includes verified allergen procedures that demonstrate allergen proteins are removed from production equipment."
Watkins also includes a list of all their naturally gluten-free products online. (Source: Watkins)
Ingredients: Organic onion powder, organic toasted minced onion, salt, organic tamari powder (organic tamari soy sauce [organic soybeans, salt] organic maltodextrin, salt), organic garlic powder, yeast extract, not more than 2% tricalcium phosphate to prevent caking. Contains: Soy.
---
Hidden Gluten in Onion Soup Mix
Not all onion dip mixes are marked gluten-free, and you never want to assume they are safe without looking closely at the nutritional labels. Additionally, there are many situations where someone might add gluten to your food without you realizing it. Here are some things that can make your soup mix unsafe for you to eat.
Beef Bouillon
Beef bouillon is often added to onion soup mixes because it adds a deep, rich flavor to the dip. Unfortunately, it is often made with autolyzed yeast extract, which is often made from barley, and wheat gluten, which is used to give richness to the bouillon.
Soy Sauce
Soy sauce is known for its rich, umami flavor. However, one of the common ingredients in many soy sauces is wheat. Instead, opt for onion soup mixes made with tamari, as it is not made with any gluten-containing ingredients.
Hydrolyzed Protein
Hydrolyzed protein is a flavor enhancer that many onion soup mix manufacturers use to enhance the meaty taste of their products. While this product can be made from soy or corn, it is often made with wheat.
If the label says "hydrolyzed protein" but doesn't mention "wheat" as an allergen, you can feel safe knowing that the ingredient is gluten-free. That's because food manufacturers must indicate when their product ingredients are derived from wheat.
Gluten-Containing Crackers Used in the Dip
If you're at a party or gathering that isn't strictly gluten-free, you'll likely find that there are gluten-containing chips and crackers around. Many people don't realize the dangers of cross-contact in food and can quickly turn an entire tub of delicious onion dip into a terrible danger for your digestive tract.
If you're the host of the gathering, consider taking two containers of dip and marking one of them gluten-free. Talk to your friends and family about the gluten-free dip so they don't accidentally put their crackers in the wrong one. Better yet, ask them not to dip. (Keep in mind that people probably still will.)
If you're a guest at a party, ask the host if you can be served first to avoid any possible cross-contact.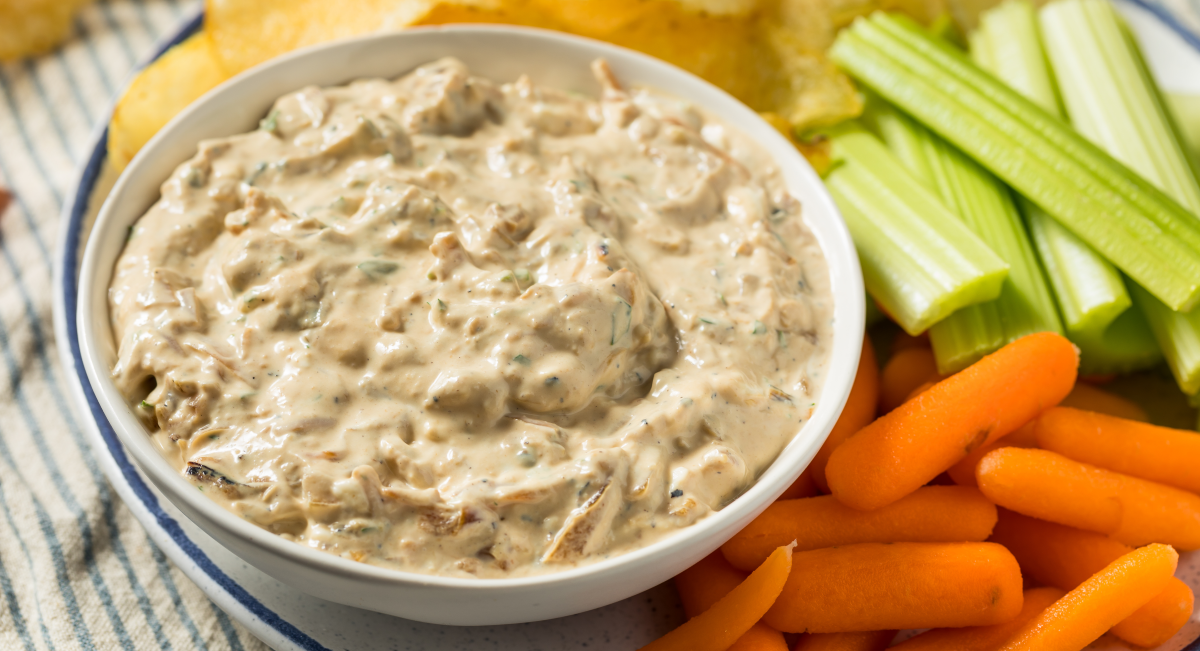 Gluten-Free Onion Soup Mix FAQ
---
Are there gluten-free onion soup mix brands?
Yes! Multiple brands make gluten-free onion soup mixes, including:
Goodman's
Mom's Place Gluten-Free
Natural Earth Products
Simply Organic
Watkins
Can people with celiac disease eat onion soup mix?
Yes, celiacs and other gluten-free people can eat onion soup mix as long as it's gluten free. When possible, we suggest sticking to certified gluten-free onion soup mixes because they have been tested to be gluten-free.
Are there vegan, gluten-free onion soup mixes?
Simply Organic has two vegan and gluten-free onion soup mixes for you to choose from.
Is Lipton onion soup mix gluten free?
Unfortunately, there is no gluten-free onion soup mix made by Lipton. Their product contains soy sauce made from wheat, so it is not safe for gluten-free people to eat.
Can you find gluten-free onion soup mix at Walmart?
Because the availability of products at Walmart depends on where you live, you might not always be able to find gluten-free onion soup mix in their stores. However, many Walmarts have gluten-free sections you can check, and you can always order the mixes online.
Share Your Favorite Gluten-Free Onion Soup Mix Brand With Us!
We hope you found this list helpful, and we would love to hear which gluten-free onion soup mix brand is your favorite. If you think we left the best brand off the list, let us know in the comments!
Go get your grub on!