Smucker's is arguably one of the most popular jam and jelly brands in North America. The parent company, The J. M. Smucker Co., originally started by making apple butter in 1897, and it has since expanded to produce fruit preserves, pet food, coffee, and more! While these facts are interesting, if you're a celiac or someone who has to avoid gluten in their diet, all you're interested in is one thing: Is Smucker's jelly gluten free?
Jam should be gluten-free naturally, but that doesn't mean it always is. This article will help dispel any confusion you may have about Smucker's and give you a gluten-free Smucker's jam and jelly list for you to follow.
Gluten-Free Grubbin' is supported by its readers. We may earn an affiliate commission at no extra cost to you if you buy through our links. We promise we'll only share products that provide value to the gluten-free community.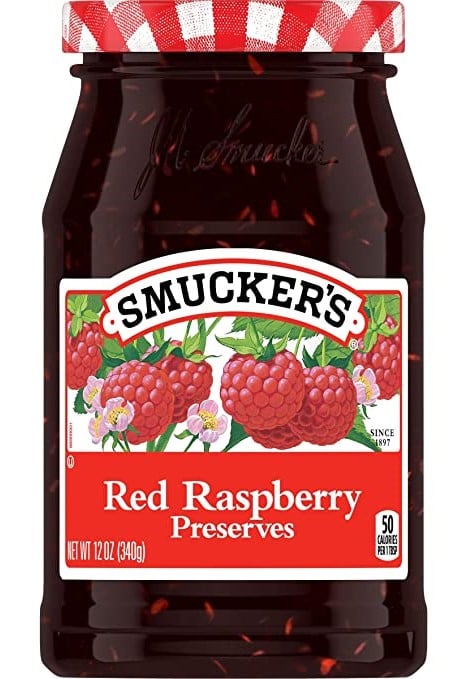 Does Smucker's Avoid Gluten Cross-Contact?
I could find neither hide nor hair of anything gluten free on Smucker's website – no lists and no discussions. Jam and jelly are almost always made from gluten-free ingredients, but the concern is that because Smucker's is a company that produces a lot of other products – many of which contain gluten – their jam could come into contact with other gluten-containing foods during the manufacturing process, which can make celiacs or people with gluten sensitivity sick.
We reached out to Smucker's directly to have them answer the question, "Is Smucker's jelly gluten free?" We also hoped to get a list of GF jam and jelly and learn more about the Smucker's facility – specifically how they prevent gluten or allergen cross-contact.
This was their response:
Thank you for contacting us regarding the presence of gluten in one of our Smucker's® products.

For over 120 years, providing our consumers with the highest quality products has been of paramount importance to The J.M. Smucker Company. Quality products begin with quality ingredients and we employ comprehensive procurement procedures to ensure our products contain only the finest ingredients from reputable suppliers.

In response to your inquiry, Smucker's® Fruit Spreads do not contain ingredients derived from gluten. However, they do not meet the established U.S. Food and Drug Administration regulations for a Gluten Free claim. We do not have a facility that has been certified as "gluten free" by a third-party qualifier.

More information on the U.S. Food and Drug Administration regulations regarding Gluten Free labeling can be found at fda.gov/food/guidanceregulation/guidancedocumentsregulatoryinformation/allergens/ucm362510.htm.

If you have any additional questions, feel free to visit us at smuckers.com or give us a call at 888-550-9555.

Best Regards,

Consumer Relations Representative
Clearly, this is simply a canned response, but you'd hope that the consumer relations representative would slightly modify the response to reference what we were saying. We never claimed that we found gluten in one of their products. We were asking them, "Is Smucker's jelly gluten free?"
Also, I always chuckle a little when companies make it a point to say that they include high-quality ingredients without saying much more. I hope that they use only good ingredients! I can't imagine that a company that has been around for 125 years has done so by using only the worst ingredients. Can you imagine getting a response saying they buy only the cheapest ingredients and just cut out the moldy spots? But, I digress!
Smucker's Gluten-Free Jam and Jelly List
Here's a full list of all the Smucker's fruit preserves that contain gluten-free ingredients:
Natural Strawberry Fruit Spread
Natural Squeeze Strawberry Fruit Spread
Natural Blackberry Fruit Spread
Natural Concord Grape Fruit Spread
Natural Squeeze Concord Grape Fruit Spread
Natural Orange Marmalade Fruit Spread
Natural Red Raspberry Fruit Spread
Natural Squeeze Red Raspberry Fruit Spread
Natural Red Tart Cherry Fruit Spread
Mosaics Cherry Blueberry Fruit Spread
Mosaics Peach Raspberry Fruit Spread
Mosaics Strawberry Blackberry Fruit Spread
Mosaics Strawberry Mango Fruit Spread
Blackberry Jam
Concord Grape Jam
Red Plum Jam
Seedless Black Raspberry-Blackberry Jam
Seedless Blackberry Jam
Seedless Boysenberry Jam
Seedless Red Raspberry Jam
Seedless Strawberry Jam
Strawberry Jam
Apple Jelly
Black Raspberry Jelly
Blackberry Jelly
Concord Grape Jelly
Strawberry Jelly
Apricot Preserves
Blueberry Preserves
Cherry Preserves
Peach Preserves
Pineapple Preserves
Red Raspberry Preserves
Strawberry Preserves
Sweet Orange Marmalade
Simply Fruit Apricot Spreadable Fruit
Simply Fruit Concord Grape Spreadable Fruit
Simply Fruit Peach Spreadable Fruit
Simply Fruit Red Raspberry Spreadable Fruit
Simply Fruit Seedless Black Raspberry Spreadable Fruit
Simply Fruit Seedless Blackberry Spreadable Fruit
Simply Fruit Seedless Red Raspberry Spreadable Fruit
Simply Fruit Seedless Strawberry Spreadable Fruit
Simply Fruit Strawberry Spreadable Fruit
Fruit & Honey Strawberry Fruit Spread
Fruit & Honey Triple Berry Fruit Spread
Low Sugar Reduced Sugar Concord Grape Jelly
Low Sugar Reduced Sugar Strawberry Preserves
Sugar Free Apricot Preserves with Splenda Brand Sweetener
Sugar Free Blueberry Preserves with Splenda Brand Sweetener
Sugar Free Concord Grape Jam with Splenda Brand Sweetener
Sugar Free Orange Marmalade with Splenda Brand Sweetener
Sugar Free Peach Preserves with Splenda Brand Sweetener
Sugar Free Red Raspberry Preserves with Splenda Brand Sweetener
Sugar Free Seedless Blackberry Jam with Splenda Brand Sweetener
Sugar Free Seedless Strawberry Jam with Splenda Brand Sweetener
Sugar Free Strawberry Preserves with Splenda Brand Sweetener
Cider Apple Butter
Squeeze Grape Jelly
Squeeze Reduced Sugar Strawberry Fruit Spread
Squeeze Strawberry Fruit Spread
---
Don't forget to check out our complete list of gluten-free jam brands you should try.
---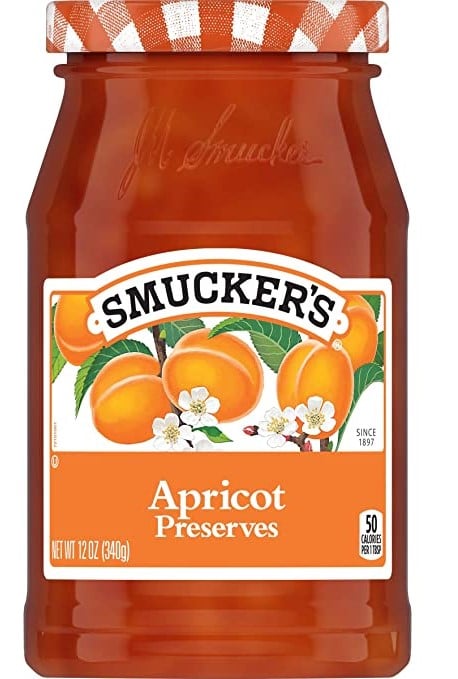 I'm Confused. So Is Smucker's Jelly Gluten Free?
Here's what we know Smucker's has:
No Ingredients With Gluten
What we know is that Smucker's products contain no gluten ingredients. That's important and a great start!
No Third-Party Reviews
We also know that Smucker's doesn't want to shell out to have a third-party review their facility to ensure that they can slap a "gluten-free" claim on their products.
By the way, that third-party review is required by the FDA gluten-free food labeling rules, which states that any foods that have a "gluten-free" claim of any kind (even just "free of gluten" or "without gluten") have to be below 20 parts per million of gluten. You can't know that without a third-party test. Smucker's hasn't tested their facilities, so they can't make that gluten-free claim.
No Assurances
This also means that we have no way of knowing whether Smucker's jelly is naturally gluten free and free from gluten cross-contact. It could be, but if you paid close attention to their response, you noticed that Smucker's didn't even answer our question about how they avoid gluten cross-contact in their facilities. Is that because they don't clean their machines to avoid gluten and other allergens, or is it because the response was a templated one and they didn't use that opportunity to clear up the confusion?
To be clear, we're not insinuating that Smucker's jelly is not gluten free. All we're trying to point out is that without a gluten-free certification (or even just a gluten-free label!) and assurances from Smucker's, we don't truly know. Smucker's could have a completely gluten-free safe facility, even if they don't have it certified. We just don't know.
So, what's the verdict? Is Smucker's jelly gluten free? Their jellies and jams do not contain ingredients with gluten. This we can be absolutely certain of. Smucker's manufacturing processes are unknown. When this lack of knowledge happens, the Gluten-Free Grubbin' stance is that you literally have to trust your gut on this one.
Go get your grub on!