Have you ever heard of gelato made from cashews? There are loads of alternative milk options available today, many of which get turned into ice cream, but I haven't seen as many dairy-free, gluten-free gelato choices. When doing research for gluten-free ice cream, I found Cashewtopia.
Gluten-Free Grubbin' is supported by its readers. We may earn an affiliate commission at no extra cost to you if you buy through our links. We promise we'll only share products that provide value to the gluten-free community.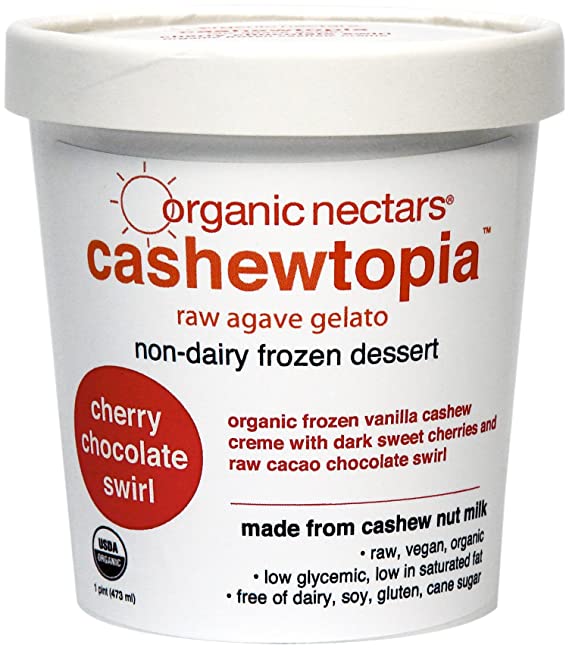 Cashewtopia: Gluten-Free Gelato Made From Cashews
Cashewtopia says that their gluten-free gelato is:
Classic
Certified vegan
Plant-based
Dairy-free
Organic
Gluten-free
Kosher
Soy-free
Refined sugar-free
That's a lot of 'free'! I always wonder how uber-healthy products like this taste, but Cashewtopia is a "multi-award" winner, so I imagine it can't taste that bad. (We'll update this article once we try the gelato.)
History of Cashewtopia
Cashewtopia was created by the company Organic Nectars, which first opened its doors in 2004. The creators of the company were looking to break into the health food industry with foods that are actually healthy, not full of chemicals, and that taste amazing. Their Cashewtopia (gluten-free gelato made from cashews) took the world by storm – winning countless culinary awards – proving that naturally sweetened, plant-based gelato can be good for you, while still blowing your taste buds away.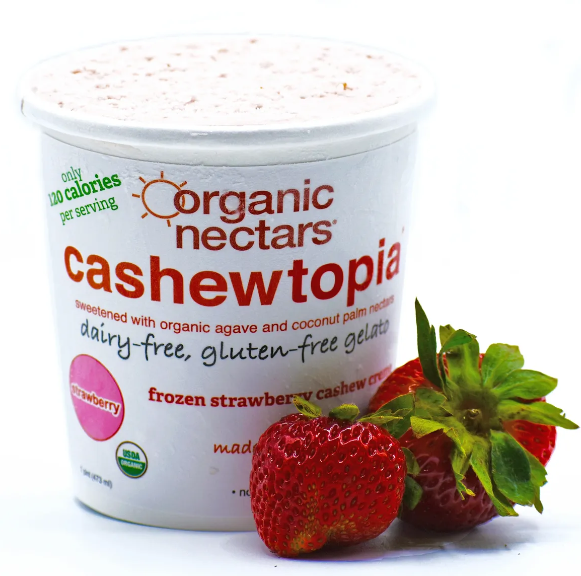 Cashewtopia Gluten-Free Gelato List
Cashewtopia gluten-free, dairy-free gelato comes in the following flavors:
Contact Organic Nectars to have this hand-crafted GF gelato mailed to you. (The product is shipped in an insulated shipping box that is packed with dry ice.)
Don't forget to check out our complete list of gluten-free ice cream brands!
Organic Nectars' Response Regarding Allergen & Gluten Cross-Contact
While all of Organic Nectars' products are gluten-free, that doesn't mean we can assume that their manufacturing equipment is dedicated to producing only gluten-free products – perhaps they have shared equipment. To get a better understanding of how they prevent gluten cross-contact in their facilities, we reached out to Organic Nectars to learn more. Here's their reply:
Our Cashewtopia gelato is hand-crafted from organic cashews, and we also use pistachios and hazelnuts in two of our flavors. So we are a nut-based product and therefore not considered allergen-free. Our facility and all products are, however, completely free of dairy, refined sugar, gluten and GMOs. I hope this answers your questions but if not pls reach out again.

Thanks so much for your email!

All the best,

Organic Nectars Customer Service
It's always nice when a company has gluten-free products that are made in dedicated gluten-free facilities. So, whether you want to create the world's biggest ice cream sundae or simply eat a bowl of gluten-free gelato before bed, you can rest assured knowing that your delicious treat won't make you sick.
Go get your grub on!