I can't believe it's been nearly a decade since I've had an ice cream sandwich. Sure, I've made my own by sandwiching gluten-free ice cream between GF cookies, but it's not the same. The cookies tend to freeze (or at least get really hard) and threaten to break your teeth. What I love about ice cream sandwiches is how soft they are, so I was excited to find FatBoy Gluten-Free Ice Cream Sandwiches. But do they taste anything like a traditional ice cream sandwich?
Gluten-Free Grubbin' is supported by its readers. We may earn an affiliate commission at no extra cost to you if you buy through our links. We promise we'll only share products that provide value to the gluten-free community.
FatBoy Jr. Gluten-Free Ice Cream Sandwich Review
We reviewed FatBoy Jr. Gluten-Free Premium Ice Cream Sandwiches to let you know whether you should grub them or snub them.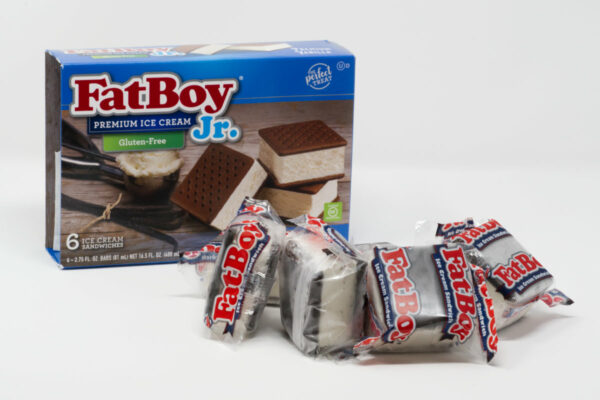 First Impressions
I was excited to try these GF ice cream sandwiches. The packaging does a good job of making these bars look enticing, and it doesn't oversell the size of the treat when you compare it to the vanilla beans and the ice cream scoop on the box.
There are six 2″ x 2″ ice cream sandwiches individually wrapped in plastic. Traditional ice cream sandwiches are usually wrapped in paper that can be a bit of a pain to take off. Getting that paper off isn't a dramatic endeavor by any means, but I remember that it would always rip. With the plastic wrap, you can get those delicious empty calories in your body faster, so yay!
Do FatBoy gluten-free ice cream sandwiches actually match what the box shows?
Sort of, yeah. The ice cream (7/8″ thick) to cookie (3/16″ thick) ratio is true to life. However, the cookie wafers don't quite look the same. The packaging shows a rich, velvety chocolate cookie, but the actual cookie is mottled and dusty looking. It's not actually dusty on the outside with flour or something similar — the look has something to do with how they baked the cookie wafer.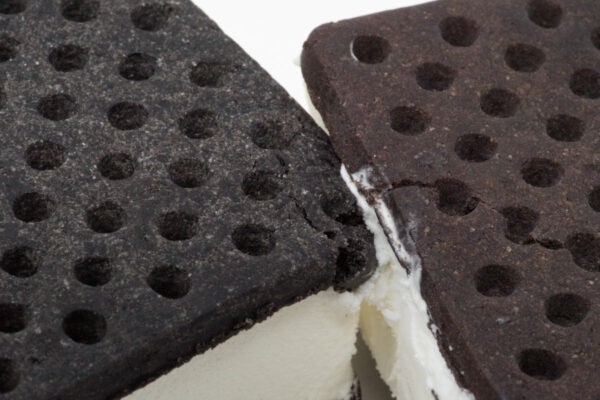 Also, one side of the sandwich is brown, and the other is black. It's not a manufacturing fluke. All six ice cream sandwiches had one darker side.
One out of the six sandwiches was broken, but that wasn't a big deal to us.
Other than that, this FatBoy GF treat matches physically with what's advertised on the box.
Chocolate Cookie Wafer
This cookie tastes like nothing. I'm serious — it's flavorless at first, then the aftertaste hits you in the back of the throat with a subtle hint of chocolate.
As is to be expected with gluten-free treats, the cookie is slightly grainy, but it's not distracting at all. In fact, one person in our group didn't even notice the graininess, which is a win for FatBoy!
A normal ice cream sandwich has a very soft and thin cookie. In fact, it's typically so soft that half of it comes off on your fingers. That's not the case with these FatBoy gluten-free ice cream sandwiches. The GF cookie is thicker and firmer than a traditional ice cream sandwich, so it has more bite. While I love how the traditional version melts in your mouth, I actually prefer how the FatBoy version holds up better. I just wish it had a richer chocolate taste.
Takeaway: The cookie has room for improvement in the flavor department but wins on structure and texture.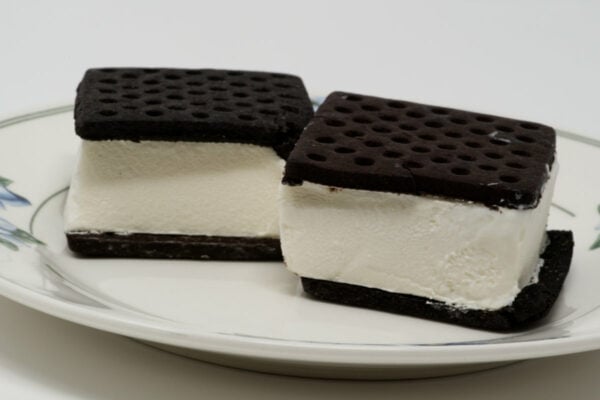 Premium Ice Cream
Why does this ice cream taste exactly like whole milk with sugar? Fresh whole milk is the first ingredient, and it's obvious. I wouldn't have been surprised if whole milk were the first four ingredients — that's how milky this is. Milk is delicious (especially with added sugar), so I don't mind the taste of the ice cream, but I was initially surprised.
I do feel a bit bamboozled by the "Premium Ice Cream" claim, though. In fact, "Premium Vanilla" is also featured on the box, so FatBoy was touting that high-quality vanilla taste. But it's not premium vanilla (though it's not cheap tasting). In fact, vanilla isn't a forward flavor at all, and it's not even included in the ingredients list. You've got frozen milk between two chocolate cookies, folks. I guess "Frozen Milk!" isn't a good buzzword.
To be fair, the ice cream's texture is nothing like frozen milk. Right out of the freezer, it's borderline icy. However, let it sit for a couple of minutes, and that iciness goes away quickly. When it starts to soften, the ice cream is similar in texture to semi-frozen Cool Whip.
We all thought that there was too much ice cream. *Gasp!* Say it ain't so. Hear me out. We're not complaining about eating all that ice cream; it's about achieving the perfect balance. The cookie wafer doesn't hold its own in the flavor department, so the creamy sweet milk flavor takes over. They need either a more flavorful cookie or slightly less ice cream to get the perfect ratio.
Takeaway: The ice cream is airy and smooth but tastes like sweetened whole milk.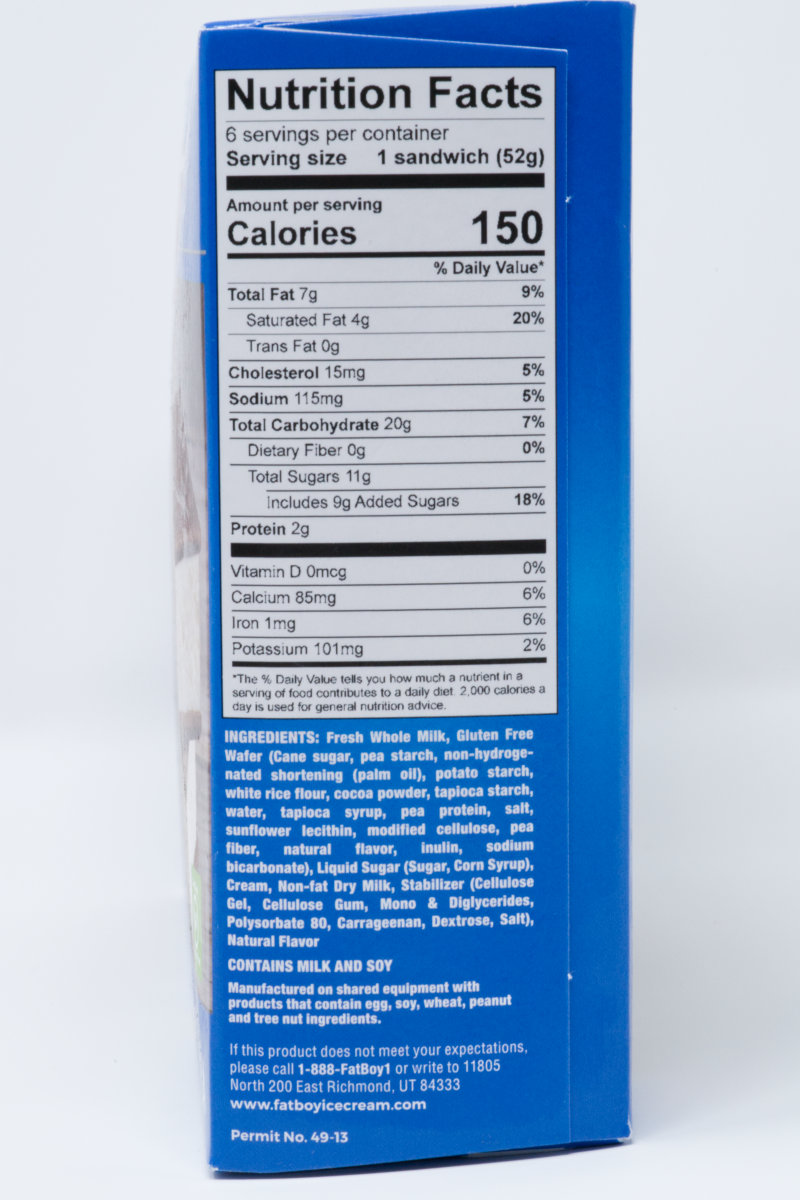 Ingredients
FatBoy Jr. Gluten-Free Premium Ice Cream Sandwiches have a lot of ingredients (listed below). Check out how many stabilizers this ice cream has:
Cellulose gel – Thickens and stabilizes
Cellulose gum – Thickens and adds creaminess
Mono & diglycerides – Creates and stabilizes air pockets, which produces a smoother ice cream
Polysorbate 80 – Keeps the ice cream from melting quickly
Carrageenan – Keeps the ice cream from separating
Dextrose – Produces a softer product that won't harden at colder temperatures
I'm guessing that they need so many stabilizers because the ice cream is made by "beefing up" the milk. (Listen, I know that I won't shut up about the milk, but you'll understand what I mean when you taste these.)
Here's the full list of ingredients as shown on the box:
Fresh Whole Milk, Gluten Free Wafer (Cane sugar, pea starch, non-hydrogenated shortening (palm oil), potato starch, white rice flour, cocoa powder, tapioca starch, water, tapioca syrup, pea protein, salt, sunflower lecithin, modified cellulose, pea fiber, natural flavor, inulin, sodium bicarbonate), Liquid Sugar (Sugar, Corn Syrup), Cream, Non-fat Dry Milk, Stabilizer (Cellulose Gel, Cellulose Gum, Mono & Diglycerides, Polysorbate 80, Carrageenan, Dextrose, Salt), Natural Flavor
Compare this to the ingredients in Haagen-Dazs Vanilla Bean Ice Cream, for example:
Cream, skim milk, cane sugar, egg yolks, ground vanilla beans, vanilla extract.
You don't need a dictionary to understand what's in the Haagen-Dazs ice cream.

Allergens Listed
Milk and soy
Cross-Contact
FatBoy GF ice cream sandwiches are manufactured on shared equipment that may have come in contact with eggs, soy, wheat, peanuts and tree nuts.
Note, however, that the product is certified gluten-free. We love that!
Price
We picked up our FatBoy Gluten-Free Ice Cream Sandwiches from Safeway for $3.99, down from $5.49 with a coupon. The regular price puts the frozen treats at nearly one dollar per ice cream sandwich, which is steep but pretty standard for gluten-free food. The coupon rate gives us one gluten-free ice cream sandwich for 67 cents. Compare that to Klondike Vanilla Ice Cream Sandwiches that you can get for 58 cents each. At coupon prices, you could buy a few extra boxes of these GF ice cream sandwiches and store them in your freezer without feeling guilty.
FatBoy Gluten-Free Ice Cream Sandwiches: Grub It or Snub It?
Grub it! We give the FatBoy Jr. Gluten-Free Ice Cream Sandwich a rating of 8.25 out of 10.
Yes, the "premium" vanilla claim is a stretch.
Yes, the cookie wafers are a bit too light on flavor.
Yes, the ingredients seem unnecessarily complicated.
But, these FatBoy gluten-free ice cream sandwiches are a fun, affordable, and tasty treat.
Go get your grub on!