There's something about hot dogs that perfectly capture the essence of summer. However, people with gluten sensitivity or celiac disease can't just casually partake in the food festivities without doing some investigation first. There is always tedious research that goes into making sure everything we eat is safe.
It's got to be done, even though it can be annoying, and we're here to help answer the question, "Are Hebrew National hot dogs gluten free?"
We may earn an affiliate commission at no extra cost to you if you buy through our links. We promise we'll only share products that provide value to the gluten-free community.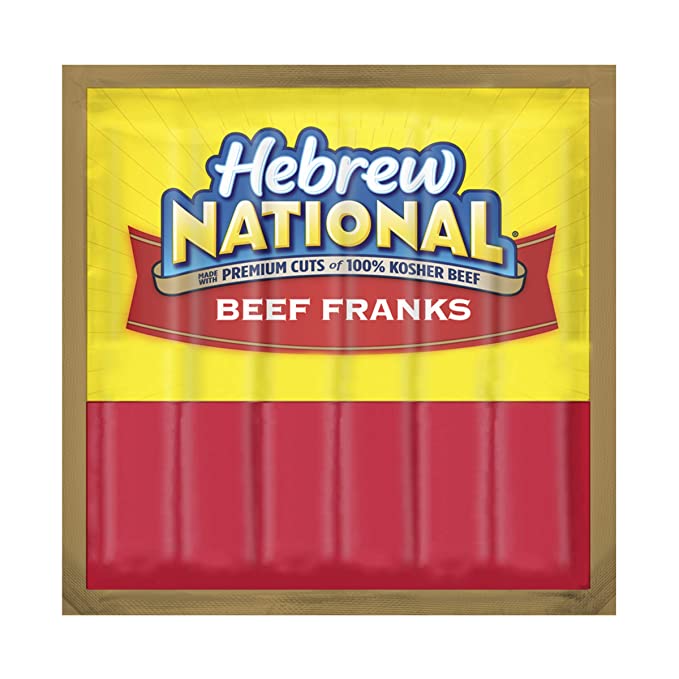 Hebrew National Gluten-Free Hot Dogs List
All Hebrew National hot dogs are gluten-free! They have a tagline on their Kosher Beef Franks page that says, "No artificial flavors or colors, no fillers, no by-products, and no gluten—no kidding."
Here's a list of all Hebrew National gluten-free hot dogs:
Hebrew National Beef Franks
Hebrew National All Natural Uncured Beef Franks
Hebrew National Reduced Fat Beef Franks
Hebrew National 97% Fat Free Beef Franks
Hebrew National Bun Length Beef Franks
Hebrew National Jumbo Beef Franks
Hebrew National Quarter Pound Beef Franks
Hebrew National Beef Knockwurst
---
Related: Check out our full list of Gluten-Free Hot Dog Brands.
How Does Hebrew National Prevent Gluten Cross-Contact?
We love to see that Hebrew National hot dogs are gluten free, but our research doesn't stop there. They have the voluntary "gluten free" labeling, which means their products must either be naturally gluten-free or contain less than 20 parts per million of gluten. So how do they prevent gluten cross-contact and ensure that their hot dogs are always safe from gluten?
We contacted Hebrew National to find out more, and this is their reply:
Thank you for your contact regarding our HEBREW NATIONAL Hot Dogs.

Your comments are extremely valuable, and they help us make the food you love even better.

Since wheat is a major food allergen, if it is used in the product, it will be listed in the "contains" statement following the ingredients list. If any ingredient in the product includes rye or barley, it will be listed in parentheses immediately following the ingredient.

If our product has a gluten free claim, you can be assured that our product is safe and wholesome and meets the FDA regulation published in 2013 regarding gluten free claims. We ensure compliance to this regulation, which requires that any product making a gluten free claim contains less than 20 ppm gluten, through such activities as sanitation procedures, ingredient management, scheduling protocols, and periodic line and product testing to validate our processes and ensure compliance to the claim.

At this time, we do not have a list our Gluten Free products. Since our product brands are constantly growing and changing, it is very difficult to keep an accurate list. We suggest checking our product labels.

Thanks again for taking the time to contact us.

Hebrew National Customer Service
Update: Since this response, Hebrew National DID start labeling all of their hot dogs as "gluten free." You can usually find it in the bottom, left corner of the packaging. Plus, they have that new tagline saying "no gluten—no kidding."
We're happy to see the big steps Hebrew National has taken to keep our celiac and gluten-intolerant communities safe and give us an easier way to identify which products are OK for us to eat.
So, Are Hebrew National Hot Dogs Gluten Free?
Yes, Hebrew National hot dogs are gluten free! Isn't it so nice to know that we can enjoy a summer BBQ without worrying that we're going to get sick?
Don't forget to stock up on gluten-free hot dog buns before you head over to that barbecue!
Go get your grub on!