Snoqualmie Ice Cream is a family-owned business that was founded in 1997. Barry and Shahnaz Bettinger dreamed of working together and making top-tier products for their customers.
They make organic ice creams, which are very rich and more like a custard, that are made with certified organic, grass-fed milk and fresh cream, and only the highest quality fruits. They also have their all-natural craft ice creams, which are made without preservatives or artificial flavors.
But is Snoqualmie Ice Cream gluten-free?
Gluten-Free Grubbin' is supported by its readers. We may earn an affiliate commission at no extra cost to you if you buy through our links. We promise we'll only share products that provide value to the gluten-free community.

Snoqualmie Gluten-Free Ice Cream Flavors
Below is a list of Snoqualmie Ice Cream's gluten-free flavors:
Snoqualmie Organic Chocolate
Snoqualmie Organic Lavender
Snoqualmie Organic Mint Chip
Snoqualmie Organic Salty Caramel
Snoqualmie Organic Sweet Berries & Cream
Snoqualmie Ice Cream French Lavender
Snoqualmie Ice Cream French Vanilla
Snoqualmie Ice Cream Ginger
Snoqualmie Ice Cream Green Tea
Snoqualmie Ice Cream Iced Latte
Snoqualmie Ice Cream Island Coconut
Snoqualmie Ice Cream Lemon
Snoqualmie Ice Cream Mint Chocolate Chips
Snoqualmie Ice Cream MMMaple Whiskey
Snoqualmie Ice Cream Mountain Blackberry
Snoqualmie Ice Cream Mukilteo Mudd
Snoqualmie Ice Cream Salted Caramel
Snoqualmie Ice Cream Smooth Bourbon
Snoqualmie Ice Cream Vanilla Bean
How Does Snoqualmie Protect Their Products From Cross-Contact?
Not all of Snoqualmie Ice Cream's products are gluten-free. Some include mix-ins that contain gluten, which means that their production line processes gluten.
We couldn't find any information on Snoqualmie Ice Cream's website regarding how they prevent gluten and allergen cross-contamination between their products, so we contacted them. Here is their reply:
Any of our ice cream without inclusions which contain gluten are gluten-free.

We have a robust allergen program.

Thank you for writing.

Snoqualmie Ice Cream Representative
While we appreciate that they got right to the point, it would be nice to have a little bit more helpful information about their allergen program.
However, it is worth noting that all Snoqualmie Ice Cream flavors without inclusions are marked gluten-free on the packaging, though it does not say they are certified gluten-free.
How To Stay Safe While at a Snoqualmie Ice Cream Shop
Whether you're out exploring the western Washington countryside or you live in the area, you might want to stop by one of Snoqualmie Ice Cream's scoop shops. But how do you make sure your ice cream is gluten-free?
While not choosing ice creams with obvious gluten traps (cookies, brownies) is a good start, there are a few other things you'll want to watch out for while ordering your creamy treat.
Ask Workers To Change Their Gloves
Workers tend to continue to wear the same pair of gloves until something happens and they are forced to get a new pair. For example, they might switch from ice cream scooping to money handling.
But keeping gloves on for almost every transaction also means that a worker is 99% likely to touch a gluten-filled ice cream cone and then move to serve you.
You cannot know what that Snoqualmie worker touched before you came in, so you always want to err on the side of caution and ask them to put on a new pair of gloves. It is also helpful to take it one step further and ask them to wash their hands before they put the new pair on.
Request Unopened Ice Cream
Ice cream shops handle inventory in the front of the house in a couple of different ways. They may have a large barrel of ice cream that they use until it's gone. Or, they may have smaller containers of ice cream that they continually refill throughout the day.
Either way, the barrel or container sitting on display is not safe for people who want to eat gluten-free ice cream. That's because the ice cream worker will push the scoop against the ice cream cone and load it up. Even that quick, seemingly minor contact with a gluten-containing cone renders the scoop unsafe.
As the scoops go from cone to ice cream back to the cone, the ice cream container or barrel also becomes unsafe for people on a gluten-free diet.
When you go to order, and after you've explained that you need to eat gluten-free, ask if the worker can get you fresh ice cream from the back. Most ice cream shops will be able to accommodate you because they have extra ice cream stored away.
Get a New Scooper
Health departments nationwide require ice cream scoops to be put into a water/sanitizer solution between scoops. While this sanitation solution will remove some of the gluten on the scoop, the scoop likely isn't going to be sitting in the solution long enough to do any serious sanitizing. Plus, it's sitting in gluteny water that's not getting washed off.
To help better ensure you don't get sick, ask the Snoqualmie Ice Cream attendant if it's possible to use a new scooper. Explain to them your dietary restrictions, and make sure they get one that has been properly cleaned and sanitized, not just one sitting in a different sanitizer solution at the other end of the counter. Most ice cream shops have plenty of extra scoops on hand, so it shouldn't ever be a problem.
Avoid the Toppings
I am a sucker for loads of toppings on my ice cream, but I stop in my tracks when shops share spoons between toppings. If you don't see a separate spoon for individual toppings, you're better off skipping them altogether.
You have no way of knowing whether someone before you got a scoop of cookie dough balls and then put the scoop back into the gummy bears. This is especially true at self-serve ice cream shops. It's always better to be safe than sorry.
Also, gluten crumbs can easily go flying from one container to another, so it's typically best to avoid toppings entirely unless they are stored separately and properly. When in doubt, just ask some questions to see how the ice cream shop handles its products.
Snoqualmie Ice Cream FAQ
Where is Snoqualmie Ice Cream shop?
Snoqualmie Ice Cream has two shops: The first is in Maltby at 21106 86th Ave SE, Snohomish, WA, 98296.
The second location is in Snoqualmie at 8102 Railroad Ave SE, Snoqualmie, WA, 98065.
Are any Snoqualmie Ice Cream flavors dairy-free?
Snoqualmie Ice Cream does not have any dairy-free ice cream at this time.
Are Snoqualmie Ice Cream ingredients healthy?
Snoqualmie Ice Cream strives to use the highest-quality ingredients possible. However, most people do not consider ice cream to be a healthy food, so it should be eaten in moderation.
Does Snoqualmie Ice Cream believe in sustainability?
Snoqualmie Ice Cream believes in sustainability and strives to reduce the carbon footprint of their manufacturing plant. They incorporated bioswales and pervious concrete to catch rainwater runoff and implemented rain gardens in their plant. They also use energy-efficient equipment, sensor-activated LED lights, and solar panels.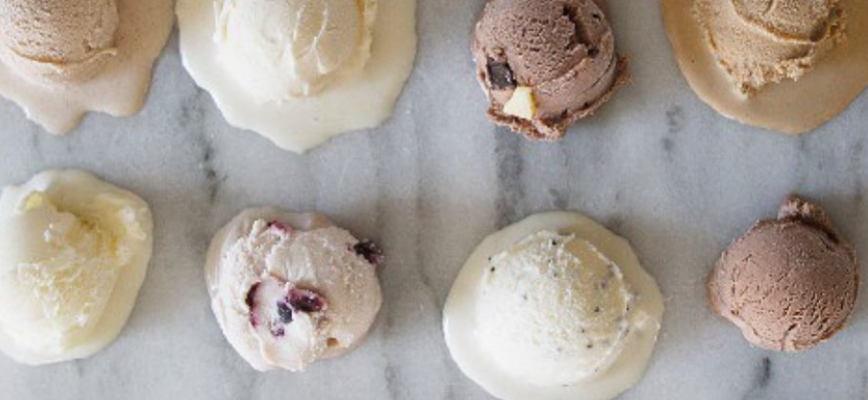 Feel Comfortable Eating Snoqualmie Ice Cream
While Snoqualmie Ice Cream has two scoop shops in Washington state, one in Maltby and the other in Snoqualmie, you might not be able to visit them in person. Luckily, their products are available in grocery stores in Washington, and you can also order them online.
As the wise Dalai Lama said, "The purpose of our lives is to be happy." I don't know about you, but a life without gluten-free ice cream is not a happy life at all. Thankfully, with plenty of gluten-free options from Snoqualmie Ice Cream, you won't have a sad life anytime soon!
Go get your grub on!