You may have seen Nick's light ice cream gracing your grocery store freezer section lately. The product has been around since 2014, but it's recently grown in popularity as a diabetic-friendly or keto ice cream option. So it's low in sugar, but is Nick's ice cream gluten-free?
Gluten-Free Grubbin' is supported by its readers. We may earn an affiliate commission at no extra cost to you if you buy through our links. We promise we'll only share products that provide value to the gluten-free community.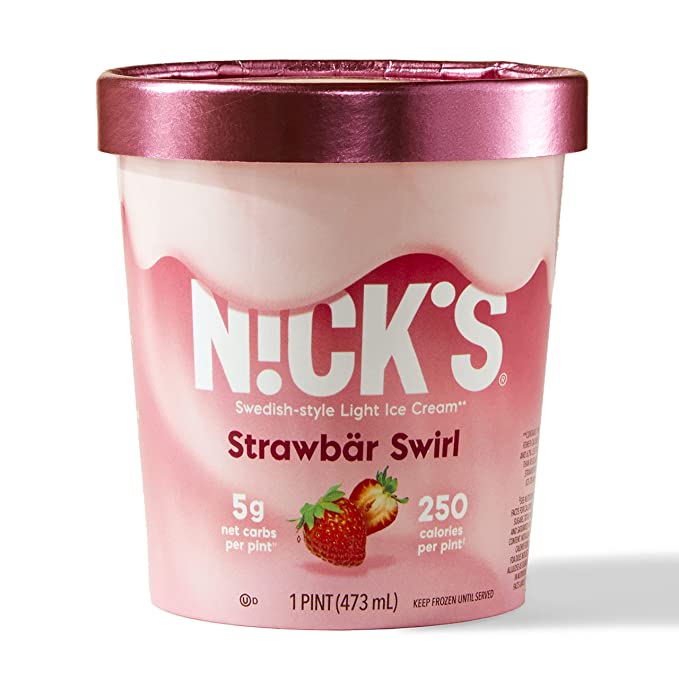 Nick's Gluten-Free Ice Cream Flavors List
According to their website, the following Nick's ice cream flavors are gluten-free:
Birthdäg Cake
Butter Pekan
Cherry Choka-Fläka
Coffee Karamell
Mint Chokladchip
Peanöt Butter Karamell
Peanöt Choklad Cup
Pumpkin Spice Swirl
Raspbär Swirl
Rocky Fjord
Sälta Karamell
Strawbär Swirl
Swedish Choklad
Swedish Munchies
Swedish Pistasch
Swedish Vanilj
Triple Choklad
---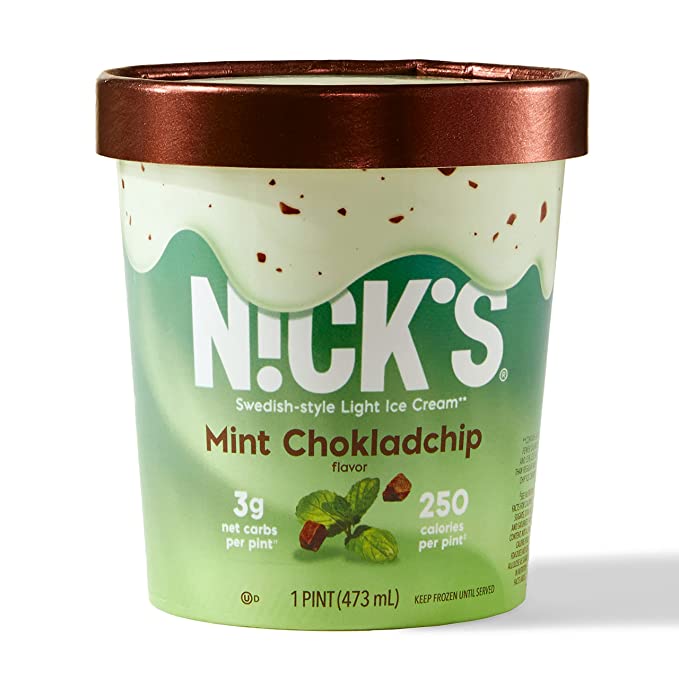 Nick's Certified Gluten-Free Ice Cream Flavors
To be honest, Nick's website is a mess. According to their FAQ page, they have a list of four ice cream flavors that are NOT gluten-free, but when you look at some of those options, they are certified by the GFCO.
Here are the Nick's ice cream flavors that have a label indicating they are GFCO certified:
Birthdäg Cake
Butter Pekan
Cherry Choka-Fläka
Mint Chokladchip
Peanöt Choklad Cup
Pumpkin Spice Swirl
Sälta Karamell
Strawbär Swirl
Swedish Choklad
Swedish Munchies
Swedish Pistasch
Swedish Vanilj
Triple Choklad
---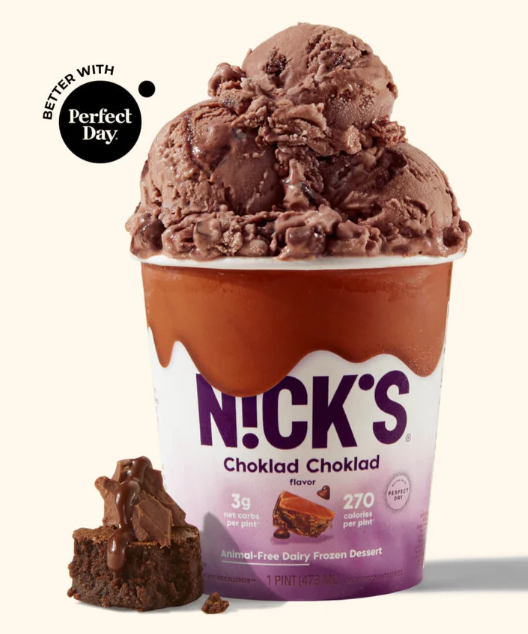 Nick's Gluten-Free Vegan Ice Cream Flavors
Here's a list of Nick's vegan ice cream options:
Choklad Choklad
Hazelnöt Swirl
Karamell Swirl
Peanöt Butter Swirl
Strawbär Kräm
Swedish Mint Chip
Vanilj Bean
They partnered with Perfect Day to create these gluten-free vegan ice cream flavors that are also keto-friendly and free from added sugars.
---
How Does Nick's Prevent Gluten Cross-Contact?
Nick's has a list of their gluten-free products on their website, which is very helpful, but they didn't say anything about how they avoid cross-contact in their products. We contacted them with our questions, and they responded with:
Thank you for writing in!

We have four out of sixteen flavors with gluten, which contain wheat allergens in their crumbles and bits:

Triple Choklad
Peanöt Butter Cup
Cherry Choka-Fläka
Cookies and Kräm

We only include gluten in these products, which are processed separately from our ice cream, but unfortunately I cannot promise any cross-contamination protocols in our facilities with our machinery. There should not be any issues with this, but if you have a severe allergy to gluten, then I wouldn't have the full guarantee because we don't have this procedure set up at this time.

I hope this helps with your question. Does this answer everything I can assist you with? Thanks again for reaching out, and have a great rest of your day.

Kind Regards,

Nick's Customer Service
While I appreciate them sending this list, I'm left a bit confused. When you look at the ingredient lists for each of their ice creams, you can clearly see that Peanöt Choklad Cup, Triple Choklad and Cherry Choka-Fläka don't have any gluten-containing ingredients in them. And Triple Choklad is actually certified gluten-free! (What the heck?!)
Furthermore, they have additional flavors that DO have gluten in them and should be avoided if you have celiac disease or other gluten intolerances. They are:
Campfire S'mörgs
Key Lime Pie
Strawbär Cheesecake
Cheesecake Snö-flaka – Limited Edition
Another puzzling piece of the scenario is that their precautionary allergen label doesn't say that their products are made in a facility that processes wheat. Not even the products with wheat in them say they are processed in a facility with wheat. The following picture is from their Strawbär Cheesecake (which contains wheat):

Because we are full of millions of questions, we contacted them again for further clarification. However, after weeks of not hearing anything, we're just going to assume that they aren't going to get back to us.
What Is Nick's Ice Cream Nutrition?
Nick's had a whole page on their website dedicated to talking about their "plant-powered ice cream" made using "sweet nutritional science." Unfortunately, those web pages are throwing 404 errors, so we're not sure what's what. Here's what we do know about Nick's ice cream nutrition and ingredients.
It Contains Plant-Based Fat
Swedish-style ice cream is typically made with a lot more cream than traditional ice cream, giving it a rich and velvety texture. However, Nick's ice cream uses a plant-based fat called EPG (esterified propoxylated glycerol), making it light while still maintaining the texture of Swedish-style ice cream.
Listen, "esterified propoxylated glycerol" and "EPG" really aren't things I'm running to the store to eat. What the heck are they? Well, according to Food Navigator, "the plant-based oil is made by splitting rapeseed oil into glycerin and fatty acid." OK, that doesn't sound so scary.
For what it's worth, the FDA has given EPG a "Generally Recognized As Safe" status.
No Sugars Are Added
Instead of using traditional sugar, Nick's light ice cream is made from natural sweeteners such as erythritol, sorbitol, stevia, allulose, and monk fruit extract.
It's Low Carb
Nick's ice cream has been 4 grams and 7 grams of net carbs, making it a good option for diabetics or people on the keto diet.
Here's how Nick's says they calculate their net carbs, in case this is helpful to you:
Net carbs = carbs – fiber – sugar alcohols (Erythritol, etc.) – Allulose
It's Free From Synthetic Ingredients
Nick's ice cream focuses on providing natural ingredients. They have no products with "synthesized ingredients or artificial sweeteners."
Coconut Oil Is in Everything
All of Nick's light ice cream flavors contain coconut oil.
It's Soy Free
If you're trying to kick soy from your diet, you're in luck! Nick's ice cream is soy-free.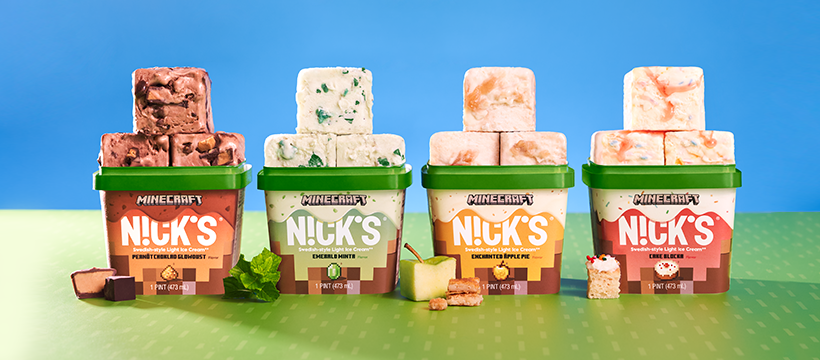 Nick's Ice Cream FAQ
Is Nick's ice cream safe for celiacs?
Yes. Well … some of it is. You can't argue against the GFCO certification, and those are the only products I'd stick to, personally. Their website and labeling is just simply too inconsistent for me to suggest anything else. So if you're unsure, look for the certified gluten-free ice cream designation, and you should be just fine.
Are Nick's ice cream bars gluten-free?
Nick's website doesn't indicate if their ice cream bars are gluten-free. That's not necessarily a red flag, because all of the labels they typically use on their ice cream ("no sugar added," "keto-friendly") are also missing from the product description. However, Nick's ice cream bars do not have any gluten-containing ingredients in them.
Do Nick's ice cream sandwiches contain gluten?
All of Nick's ice cream sandwich options are made with wheat and are not gluten-free.
Choose Nick's Gluten-Free Ice Cream With Confidence
If you're on a gluten-free diet and want to dive into the world of keto or low-carb eating, it's nice to know there are options like Nick's ice cream that can help you satisfy your sweet tooth and keep you on track with your diet plan.
Don't forget to check out our full list of gluten-free ice cream brands to see what other companies you can trust.
Go get your grub on!