Did you know that Breyers ice cream has been around since 1866? It took 30 years before Breyers opened a wholesale manufacturing center, and now they are one of the most popular ice cream companies in the United States. The Breyers website says that they "always start with high quality ingredients and combine them with naturally sourced colors and flavors for wholesome goodness." As someone who has to be diligent about what I eat, that sort of commitment to wholesome goodness is exactly what I'm looking for. But, is Breyers ice cream gluten free? Some of it, yes!
Gluten-Free Grubbin' is supported by its readers. We may earn an affiliate commission at no extra cost to you if you buy through our links. We promise we'll only share products that provide value to the gluten-free community.
Is Breyers Ice Cream Gluten-Free?
Yes, Breyers offers gluten-free options! While they currently have 66 ice cream flavors, only 31 of them are gluten free. (See the full list of safe options below.) I don't mean "only" as in "why aren't there more?" I'm happy to see that these popular ice cream brands are offering more choices for people who need to follow a gluten-free diet.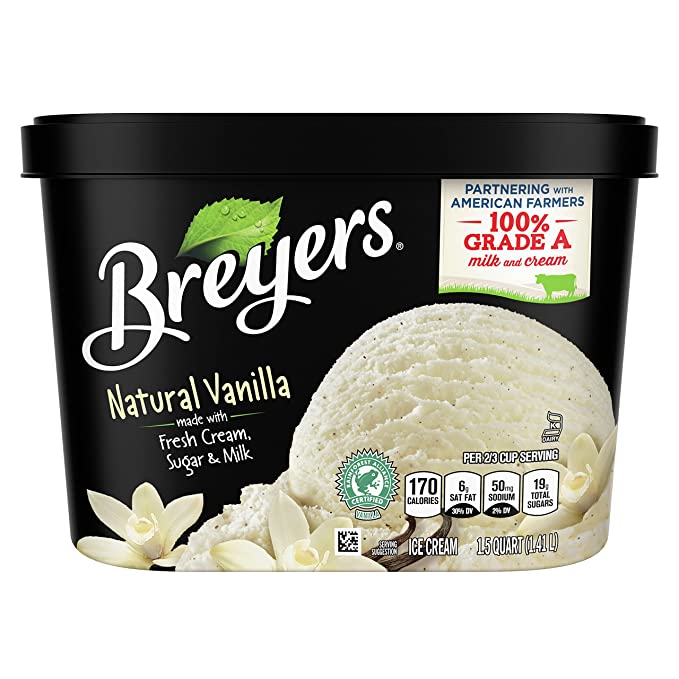 Here is an updated list of all Breyers ice cream flavors that are gluten free:
Butter Pecan
CarbSmart Chocolate
CarbSmart Vanilla
CarbSmart Vanilla, Chocolate, Strawberry
Cherry Vanilla
Chocolate
Chocolate Chip
Chocolate Peanut Butter
Coffee
Creamsicle
Dulce de Leche
Extra Creamy Chocolate
Extra Creamy Vanilla
French Vanilla
Homemade Vanilla
Lactose Free Chocolate
Lactose Free Vanilla
Mango
Mint Chocolate Chip
Natural Strawberry
Natural Vanilla
No Sugar Added Butter Pecan
No Sugar Added Caramel Swirl
No Sugar Added Vanilla
No Sugar Added Vanilla Chocolate Strawberry
Non-Dairy Vanilla
Peach
Salted Caramel
Vanilla Chocolate
Vanilla Chocolate Strawberry
Vanilla Fudge Twirl
Breyers used to have CarbSmart Peanut Butter and Coconut Fudge on their list, but those were removed. We're not sure if Breyers stopped making those items or if those two products now have gluten-containing ingredients in them, but please keep this information in mind when shopping.
Issues With Breyers' Online Product Filtering
We want to take a second to address discrepancies we've found with the category filters on Breyers' website. If you select the gluten-free option, you'll find 13 options in their gluten-free ice cream category. However, some of the options in their other categories are also gluten free even if they don't appear in the GF section.
For example, check out their CarbSmart™ Vanilla, Chocolate, Strawberry. It does not show up in the gluten-free filter, but Breyers marks it as gluten free in at least two places. Plus, there is nothing about the ingredients that make it unsafe for a gluten-free diet. If we ever find out the reason for this discrepancy, we'll update this post. In the meantime, I'm confident that this is merely a sorting issue online and not an indication that their ice cream is full of gluten.
---
Don't forget to check out our complete list of gluten-free ice cream brands!
---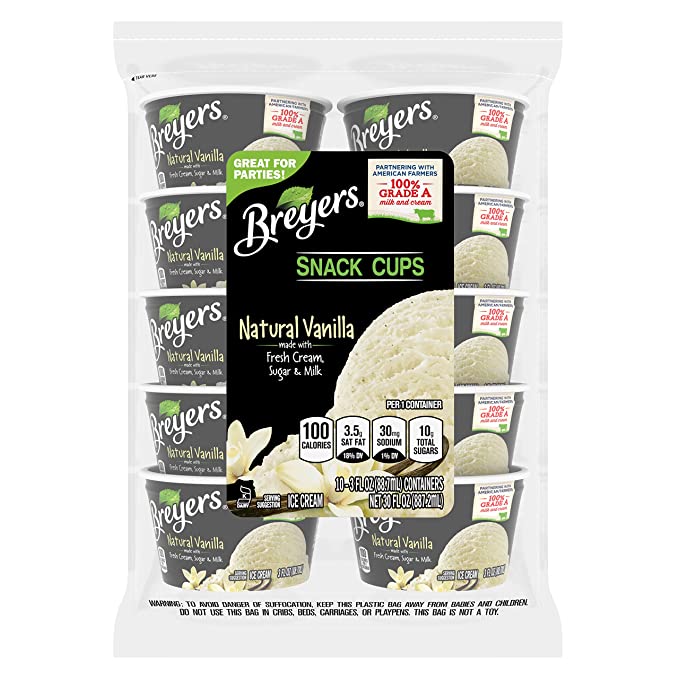 Are Breyers Ice Cream Cups Gluten Free?
A common question people ask is are Breyers ice cream cups gluten free? This is a tricky one. (Though it never should be tricky when it comes to food labeling!)
Breyers ice cream cups include the following flavors:
Reese's Snack Cups
Natural Vanilla Snack Cups
Chocolate Snack Cups
While they have no gluten-containing ingredients (at least on the surface), these ice cream snack cups are not categorized as gluten free.
This is slightly puzzling, especially when you look at the ingredients for the Natural Vanilla Snack Cups:
Milk, Cream, Sugar, Water, Vegetable Gum (Tara), Natural Flavor.
Is the gluten hiding behind the natural flavor? That's doubtful, because Breyers states (as you'll see in their statement below), "Any ingredient that may contain gluten are always listed on the label."
My guess is that the Breyers snack cups are manufactured in a different facility from their quarts, and those cup may come in contact with gluten. It's only a guess, though!
So, are Breyers ice cream cups gluten free? We're going to say no to this one just to be safe!
All the other Breyers quarts have a cute little green "Gluten Free" stamp on the product, and the snack cups do not. They also are not sorted as part of the gluten-free ice options on their website. None of this is a mistake. Keep yourself safe and stay away from the Breyers ice cream cups if you have to avoid gluten.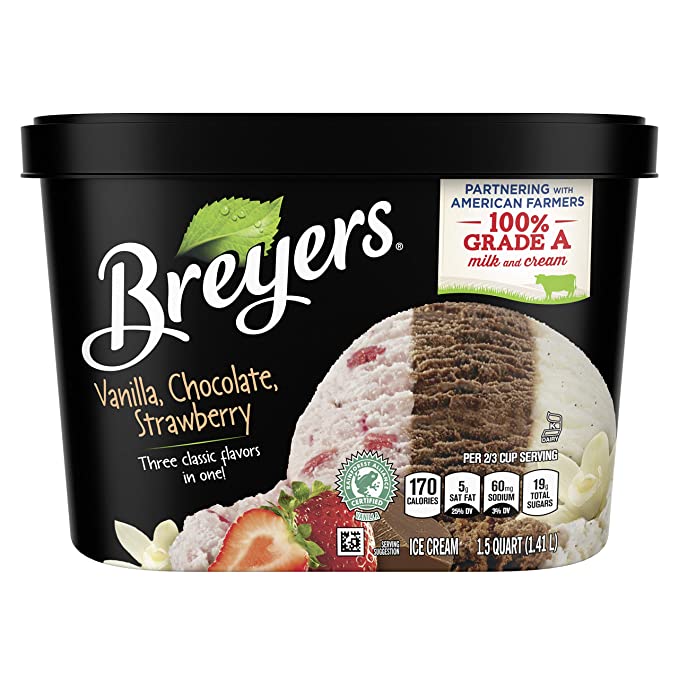 How Does Breyers Avoid Gluten Cross-Contact?
While the Breyers GF ice cream list is helpful to determine which Breyers ice cream is gluten free, we're still left wondering how, exactly, Breyers avoids gluten cross-contact, especially because they manufacture so many other gluten-containing ice creams.
We contacted Breyers to learn more, and this is their response:
Thank you for contacting Breyers about our ice cream.

Like any food manufacturing facility, Unilever manufacturing facilities are not allergen free.

However, we have a robust Food Safety and allergen control program in place for all of our products and ingredients and our labels are in compliance with all guidance and regulations with regard to allergen labeling. Regulatory guidance directs that companies take proper precautions and have thorough cleaning procedures.

At Unilever, we have mandatory policies and standards in place to ensure that we meet regulatory guidance and our own Code of Business Principles. Safety and quality are an important and integral part of our product design. In order to ensure our products are produced safely and labeled properly: – A detailed review is performed for every ingredient, from each supplier, to understand possible cross contamination issues. This process drives potential declarations on the label of our products. – We have a robust Allergen Management Program in our manufacturing sites, and includes the separation and storage of allergen containing ingredients, robust line cleaning, allergen clean validation testing, and we conduct verification testing and analysis of the line and finished product to ensure proper cleaning.
Ingredients that may contain any of the top eight allergens as defined by FDA: peanuts, tree nuts, soy, fish, seafood, wheat, eggs, and dairy, as well as any ingredient that may contain gluten are always listed on the label. Our products are formulated for use by majority of consumers, and not specifically for those on restricted diet.

NOTE: Even though we take these extra precautions, there is no guarantee that our products are allergen free. Our product formulations may change at any time, and changes in existing products can occur without notification. It is for this reason that we suggest reading all ingredient labels carefully. If this is something that is of concern, we suggest not using the product. I hope that you carry on enjoying Breyers and feel free to ask us for more advice. We are always here to help.

Kind regards,

Community Brand Ambassador, Breyers
Breyers Gluten-Free Ice Cream FAQ
---
Can celiacs eat Breyers ice cream?
Yes, many Breyers ice cream options are safe for celiacs. Note that some of their products have a green "gluten free" label, but others that they clearly list as gluten free on their website don't have the same GF label on the product package. Make sure to check the ingredients list before eating any of their products.
Where can you buy Breyers ice cream?
Breyers ice cream is available at most groceries stores. You can also find it at Walmart and Amazon.
Are Breyers ice cream cakes gluten free?
No, Breyers does not have a gluten-free version of their ice cream cakes.
Is Breyers Carb Smart ice cream gluten free?
Yes, both the CarbSmart Chocolate and CarbSmart Vanilla are gluten free!
Is Breyers cookies and cream ice cream gluten free?
Breyers does not offer a gluten-free version of its cookies and cream ice cream.
Does Breyers offer gluten-free, dairy-free options?
Yes, Breyers Non-Dairy Vanilla ice cream is both dairy free and gluten free. It's also suitable for a vegan diet. If lactose is your issue, check out their Lactose Free Chocolate or Lactose Free Vanilla ice cream.
Choosing Breyers Gluten-Free Ice Cream With Confidence
There you have it! You can eat Breyers ice cream as part of a well-rounded gluten-free diet. Do yourself a favor (or should we say flavor?) and bookmark this article so you can always know at a glance which Breyers ice cream is gluten free.
Go get your grub on!